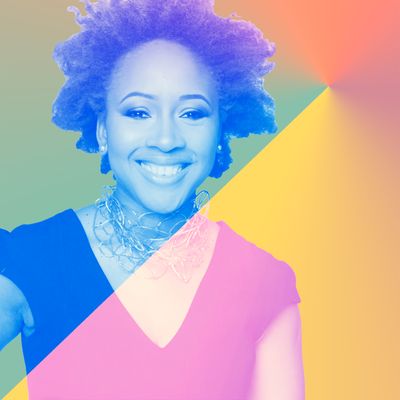 Photo: Courtesy of Cover Girl
When Ukonwa Ojo took the reins at CoverGirl shortly after its merger with Coty, the first thing she did was listen. "CoverGirl is the most beloved brand, but after hearing what my team and the consumer said, it was time to move forward." Globally, the new CMO of Coty Consumer Beauty oversees CoverGirl and Sally Hansen, while nationally, she runs the entire portfolio, which includes Clairol, Rimmel, Katy Perry Parfums, and Nautica.
Take its former tagline: "'Easy, Breezy' is a very strong point of view because it implies there are a lot of things that you won't do," explains Ojo. "But that's not how real people wear makeup! The look I wear to a wedding isn't the same as what I wear to a board meeting. Characterizing that there's a certain person who has just this one look actually wasn't having much empathy for peoples' real journey. We wanted to celebrate the role that makeup plays."
Hence, I Am What I Make Up, its new statement that celebrates both individuality and the transformative power of cosmetics. The brand's 40 shades of CoverGirl's TruBlend Matte Liquid Foundation also illustrates its mandate of leaving no complexion behind.
"Hearing real people say, 'Do you know how it feels when a new product comes out but the brand chooses not to make my shade? What does that say about my value as a human being?'" says Ojo. "Launching with 40 shades came from a place of empathy. We weren't necessarily the first mass brand to have that many, but we were the first to launch with that many."
And then there are brand's diverse spokesmodel group which includes professional road racer Shelina Moreda, septuagenarian Maye Musk, and Issa Rae.
"When we briefed the ad agency, we showed them a clip from Insecure where Issa takes on different personalities with different colors of lipsticks. At the time, it didn't even dawn on us that she should be a CoverGirl, then we were like 'Oh my God!' She's been an incredible partner."
Ojo spoke with the Cut about stealing pajamas from airplanes, the conditioner she can detangle with just her hands, and the best cure from her native Nigeria for killing a cold.
Bath or shower: Shower, for sure with Suave shower gel.
Shampoo of choice: I love Hair Rules. It's the first conditioner I could detangle with my fingers. As a black kinky-haired woman, I'd never been able to do that before!
Most relied-on hairstyling product or tool: My fingers. I twist my hair. I had been really afraid of wearing my hair naturally. I thought it might be perceived as unprofessional, which, in hindsight, is dumb when I think about it. But it's been over six years and I have no regrets.
Body lotion of choice: If I want a cream, I use Philosophy Fresh Cream Body Lotion or I mix Jergens Wet Skin with Neutrogena Body Oil together. I use Wet Skin on my son when his skin gets ashy.
What, if anything, is usually on your lips? Ooh, always some color. It could be Melting Pout Matte or Exhibitionist Lipstick, in pretty much any shade. Sometimes I layer Melting Pout Metallic Rock Star with All Nighter. Stunning!
Where would you like to be living? If I weren't living in New York, I'd live in London. I love that it's very Western but it's also very global. I moved here from London so it has a special place in my heart.
Purse of choice: I'm currently in love with Louboutin purses. I didn't know he made purses, either, until two years ago. They're really structured, and my laptop fits in it. I also love that everyone doesn't have one. They're like, "What is that?" Louboutin!
Casual shoe of choice: Gucci ballet flats. They're black patent with the signature stripe, and they're so comfortable.
Netflix and chill outfit: Pajamas. I love the pajamas on Virgin Air. My husband hates them, but they're amazing! Every time I fly Virgin, I take a new pair home.
Preferred fancy lingerie: I've done La Perla, Victoria's Secret, Agent Provacateur, but I'm not necessarily loyal.
Preferred daily underwear: Marks & Spencer, and I'm very loyal. I have boy shorts, thongs, the no VPL ones, too.
What fashion look do you not get? Anything baggy. We have a waist for a reason!
Style icon? My mom! She was a fashion designer and was without a doubt my first and lasting style icon.
Work icon? So many women who've crashed the ceiling before me, like Indra Nooyi and Ursula Burns.
Favorite outdoor activity: Walking near a body of water; any body of water. I live on the river now for that very reason.
What phrase or word are you known for saying? "Awesome."
What tests your patience? A lack of intellectual curiosity.
What word or phrase drives you crazy when other people say it? "That would never work."
Last great book you read? I love reading, but the last book I read that literally improved the quality of my life was The Way We're Working Isn't Working.
What would the name of your autobiography be? She Lived.
Who would star as you in the film adaptation? Issa Rae. That would be an honor.
What do you do or take when you can't sleep? Tea. The motion of it just settles me, even if it's caffeinated. There's something about the habit that just tells me it's time for bed.
Cold Cure: Nigerian pepper soup. It's a really hot, spicy soup made with Habanero pepper, meat and broth, ginger, chopped onions, and ethnic Nigerian spices. You just start sweating when you sip it.
Headache cure: Aleve.
Hiccups cure: Water.
Sadness cure: Prayer.
What do you think Pantone's color of 2019 should be? Yellow. The world would be a happier place if there was a lot of it everywhere.
What stresses you out if you're running low on it? Sleep.
What is your Achilles heel? My greatest strength is my greatest weakness. I'm an open book. I think something, I say something. I don't possess much of a filter.
Favorite meal and where? The meal at my wedding at Tensing Pen Resort in Negril, Jamaica. We had red snapper with rice and fried plantains. We're going back there next year for our tenth anniversary to renew our vows and I hope they make the same dish.
Comfort music: Nigerian hip-hop, Afro beat. "Mama" by Kiss Daniel is my current. If I'm running and I play that, I run faster.
Most recently binged TV show: Real Housewives of anywhere.
What product in your domain is misunderstood and should be a best-seller? Every working woman should know about CoverGirl Outlast Lip Stain. You put in on once and it Does. Not. Move. Absolutely no touch-ups needed all day. None whatsoever.
What do you foresee as the top beauty trends in 2019? Two things: The trend of moving beyond product to experiences, which is part of the reason we're opening a store later this fall. People are wanting to play a lot more and create experiences with new looks.
Ethical consumption is another one — in terms of the ingredients, the energy, the claims we make — i.e, if something's natural or not natural. I came from food [Editor's Note: Ojo has an MBA from the Kellogg School of Management and previously worked with French's Mustard and Cheerios] so I saw it in that category quite a lot. I imagine beauty would be a part of that.
If you won the Power Ball tomorrow, what are the first five things you would do? (after, of course, donating the majority of it to your top charities…) I'd invest quite a lot of it; I probably wouldn't change my life because I love working. I may work for myself and start a business versus working for a corporation, but I'd do something very similar to what I'm doing right now.
I would travel the entire world with my boys, and I would buy a lot in every country I visit — jewelry and clothes and shoes. Then I would have to build a house big enough to fit all of the things I bought, preferably with a view of the ocean.