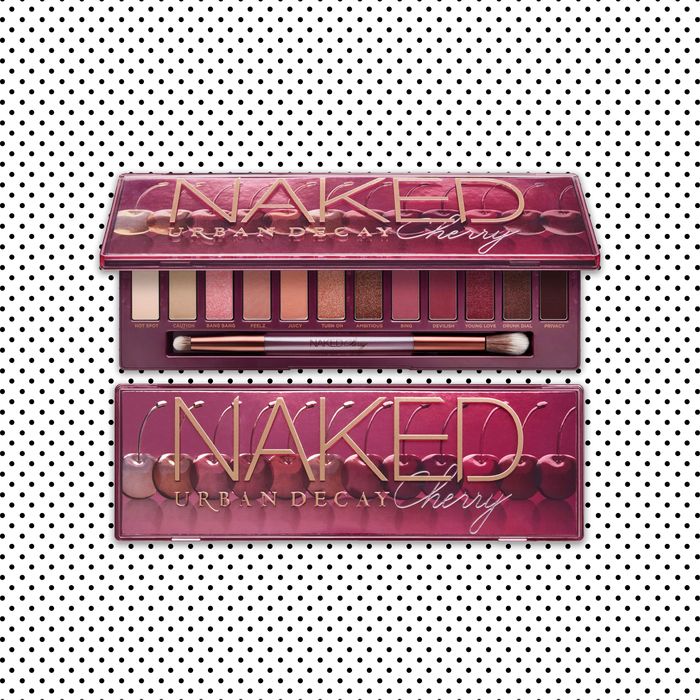 Photo: Courtesy of Urban Decay
If you're not done grieving the discontinuation of Urban Decay's Naked Palette last month, you might want to look away. But if you've managed to get past grief and on to acceptance, there's a new palette in town. Welcome to the Urban Decay family, Naked Cherry eye-shadow palette!
There are so many versions of the Naked palette, but none yet have explored all the wonder that a single fruit could inspire. Although cherries have always been associated with red, this palette focuses on some sultry red-adjacent colors instead. This is probably a good call, since cherry red is probably more doable as a lip color (unless you're a badass musician). In this palette, sensual undertones aren't just what makes a British period drama interesting, they are a real thing you can swipe over your eyelid: Shades include shimmering pink "Bang Bang", soft peach "Juicy", deep mauve "Bing", and matte ivory "Hot Spot."
There's an endless combination of flirty possibilities in here, and it pairs well with some of the other cherry-inspired pieces from their new Naked Cherry collection. Of course, the best partner for cherry will always, always be chocolate, but maybe Urban Decay could convince us otherwise.
Available online October 5 and in-store October 26.
If you buy something through our links, New York may earn an affiliate commission.