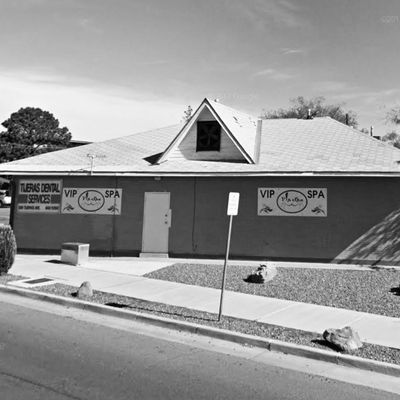 Two cases of HIV have been confirmed among former customers of a New Mexico-based spa which provided a service called "vampire facials," according to the New Mexico Department of Health.
Last fall, the DOH advised anyone who received an injection-based service at the VIP Spa in Albuquerque to be tested for HIV, hepatitis B and hepatitis C — particularly those who received the services in May or June. Among those services is the spa's "vampire facial," in which a customer's blood is drawn, and the platelet-rich plasma from that blood is injected into the customer's face. (?!) The service rose in popularity thanks to Kim Kardashian West, who posted an Instagram of herself with a bloody face in 2013.
There is no evidence that this procedure is anti-aging, as it is advertised to be, and only minimal evidence that injecting platelets into the skin might produce anti-aging effects. Practitioners say the "growth factors" contained in platelets stimulate new collagen growth in the face, but nobody really knows if that's true. Previously, at least, the procedure was thought to be relatively harmless, but the warning from the New Mexico DOH suggests there might be more risk involved than we thought.
DOH officials undertook their inspection of the spa after a customer developed an infection, epidemiologist Dr. Michael Landen told KRQE. Officials subsequently identified the spa's "vampire facial" as one among several procedures which could spread blood-borne infections. The New Mexico DOH is currently offering free and confidential HIV, hepatitis B and hepatitis C testing and counseling.
The VIP Spa has been in business since 2013, but was shut down by the DOH for their inspection. KRQE reported that a note posted on the spa's front door shortly after the shut-down claimed the clinic was closed for the week due to a "family emergency." The clinic has not reopened since.
This post has been updated.