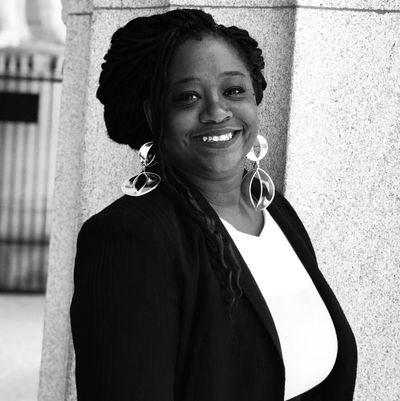 Morris.
Photo: Facebook/Kiah Morris
Kiah Morris, the only black woman in the Vermont House of Representatives, has spent the last two years enduring racist tweets, the spread of neo-Nazi propaganda, and even an invasion of her family's home.
It started during Morris's 2016 reelection campaign, when she began seeing neo-Nazi fliers being spread around Bennington, and at the door of the Democratic Party headquarters. Shortly after winning the primary in August, she saw a racist cartoon on Twitter, accompanied by offensive language. (She then shared it on her Facebook page.) The man who posted the caricature said he was "demonstrating the absurdity of a black woman being a Vermont state representative." After winning, Morris's home was vandalized, with swastikas carved into the trees outside, and this year, her family received a death threat.
Rather than finishing out her term, Morris announced on September 25 that she would be stepping down. "The sacrifices were becoming too great," she told the Washington Post Thursday morning. She will remain "100 percent" focused on her family, which includes a 7-year-old son.
"When I looked at all of this in the aggregate and realized the severity of what we could be facing, I knew I needed to focus on my family and our safety," she told the Post. "As a black mother, it's my role to emulate the strength and courage that's necessary to deal with a world that's not rehearsed at dealing with issues of race, that in many ways is stacked against people of color, and those lessons about the threats to our lives that happen just because of our mere existence should not have to come in this format. It should not have to come into my son's heart that way."
Morris had gone to the Bennington police to investigate the threats, but said she did not feel they had made progress. On August 27, the Vermont Attorney General's Office announced in a brief statement that it was looking into the online threats made against Morris.
After Morris steps down, Democrat Kevin Christine will be the only remaining black representative in the Vermont House, one of just four people of color in the legislature of Vermont — a state that's 94 percent white.
"Kiah has worked hard for her constituents, and I will miss working with her … It will be hard to find someone to match her enthusiasm and commitment," Vermont state senator Dick Sears told the Bennington Banner. "I wish her and her family nothing but the best."