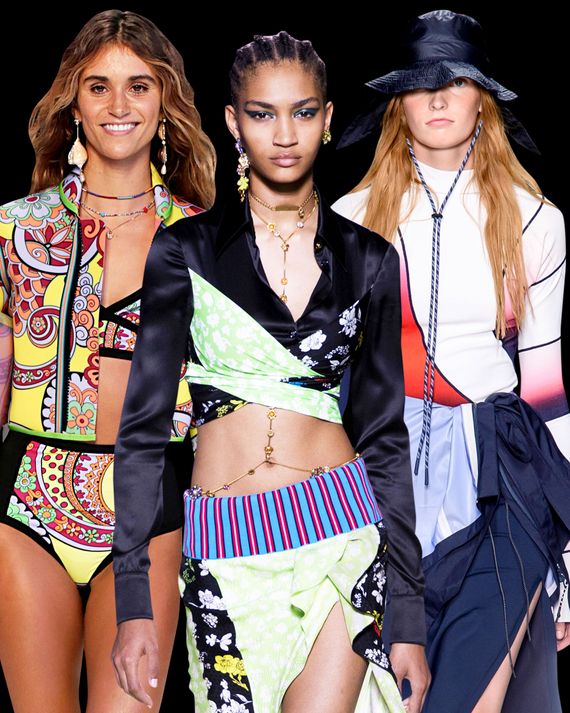 Etro, Sportmax, Versace Spring 2019.
Photo: Imaxtree
Before Friday, I never would have compared Italy to California. Maybe in reference to California Pizza Kitchen, but that's about it. Let me tell you, though: Milan Fashion Week is obsessed with the Golden State — so much that I've seen at least six surfboards walk the runway in just two days. And I'm pretty sure Milan is landlocked.
On Thursday, Armani began its spring 2019 extravaganza with four beefy men carrying enormous, branded surfboards as accessories. The runway was in an airplane hangar at the Milano Linate Airport, so needless to say, the theme was travel. Where, exactly, we were all going, I could not tell you. But I do know that the flight was very expensive, and that everyone on the other side was very good-looking.
On Friday morning, things were just as sunny at Tod's, which combined its men's and women's collections for the first time. (Resulting in all three Hadid siblings having to share the runway.) In retrospect, I think this show was the first example of some California-ness seeping into the Italian sauce. Models wore the brand's iconic suede loafers as slides this season, just like Kanye West might in Calabasas. It made me realize that although Californians prefer t-shirts to Italian-made suits, they both appreciate quality of life and taking things slowly. So, it makes sense for them to join forces and swap ideas. The only difference is that Italians, apparently, wear leather in the summer.
At Sportmax, I also wasn't totally sure where the models thought they were going in blazers, bathing suits, and bare feet, (the show notes said anywhere between Biarritz and Hawaii), but I desperately wanted to go with them, nonetheless. In addition to wetsuit-inspired outfits, bucket hats, and shell accessories from head-to-toe, one of my favorite details was the fact that most models had their shoes hanging from straps on their waists. One even carried a pair of heels in her hands. If you thought loafers and slide sandals were luxury, try not wearing anything on your feet at all.
Etro had a similar theme: surfboards, bath-leisure, and blonde Mamma Mia beach waves. But the brand invited two actual, real-life pro surfers, Victoria Vergara and Maribel Koucke, to carry boards down the runway. Etro is celebrating its 50th anniversary this season, so it looked to its '60s roots of travel and leisure. Interestingly, though, the brand also decided to explore the roots of its own design staples, specifically the origins of the paisley print, which can be traced back to Persia. This felt like a smart way for Etro to connect with customers beyond Italy, while still staying true to its heritage.
Versace, to me, is one of the clearest examples of a brand that successfully combines its national heritage with its own sense of fantasy and flair. You can spot a Versace print a mile away, like you would the Italian flag. This season, though, the brand's DNA felt a little lost underneath a mashup of layers and prints.
Of course, there were some familiar high notes: Supermodels Gigi and Bella Hadid, Kendall Jenner, and Emily Ratajkowski all looked fun and feminine in that explicitly Versace way, which Donatella has worked hard to translate for 2018. (Hence the platform Chain Reaction sneakers, logo T-shirts, and reworked chainmail dresses.) There were plenty of neon pieces and itty-bitty leather dresses, too. Plus, the show closed with a throwback: '90s supermodel Shalom Harlow strutted down the runway with power and grace to huge rounds of applause. This is the Versace we know and love. I only wished there was more of it.
For a city so rooted in tradition and family, it's exciting to see designers look beyond Milan's boarders, and be welcome to new ideas. It's okay to fantasize and think big, because that creates a fantasy for the customer, too. Designers just have to make sure they don't get lost along they way.