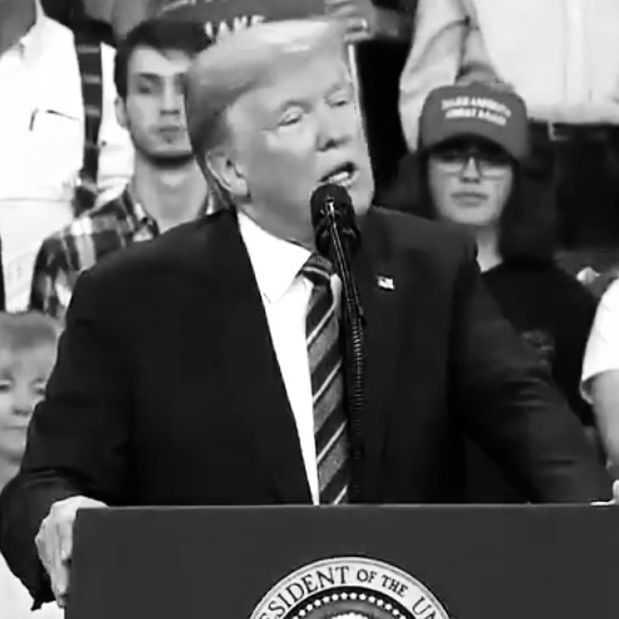 Donald Trump.
Photo: Fox News
On Thursday night, Donald Trump spoke at a rally in Billings, Montana, where he expressed his support for local Republican congressional candidate Matt Rosendale, said he thought Supreme Court nominee Brett Kavanaugh was "doing really well" in his Senate confirmation hearings, and struggled intensely to pronounce the word "anonymous."
In a clip shared on Twitter by Talking Points Memo editor Josh Marshall, President Trump references this week's New York Times op-ed by an anonymous, senior administration official who claims to part of a resistance within the administration that works to "frustrate parts of [the president's] agenda and his worst inclinations."
"The latest active resistance," Trump begins, "is the op-ed published in the Failing New York Times by an anomassss … really an anomanoussss … gutless coward. You just look."
Yes, you just look.
It's difficult to watch, and even more difficult to listen to, like nails on a chalkboard that is covered in hateful slurs and angry rants.
The president also alluded to the Times' tweet in which they referred to the official as "he," and offered up his own conspiracy theory:
"Nobody knows who the hell he is — or she. Although, they put 'he' but probably that's a little disguise. That means it's 'she.'" (Perhaps Trump agrees with my own assessment of who the author might be.)
This is, of course, not the first time the president has been bested by the English language. God bless the Unaishderdaish.