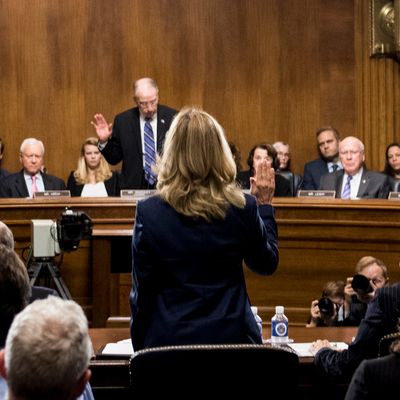 Ford being sworn in.
Photo: Tom Williams/CQ-Roll Call,Inc.
Those who watched Christine Blasey Ford testify about her sexual assault allegation against Supreme Court nominee Brett Kavanaugh on TV saw either a single shot of Ford, or a split screen of her and a senator. What the networks didn't show is what Ford was looking at while she shakily read from her prepared remarks, then responded to questions from sex-crimes prosecutor Rachel Mitchell, who examined Ford's testimony in place of Republican senators.
But journalists attending the Senate Judiciary Committee hearing tweeted out images of what it looked like inside the Senate chambers from Ford's perspective.
As TV cameras zoom in on Ford and those questioning her, remember that they are cropping out much of the room — and the true scope of what Ford is facing.