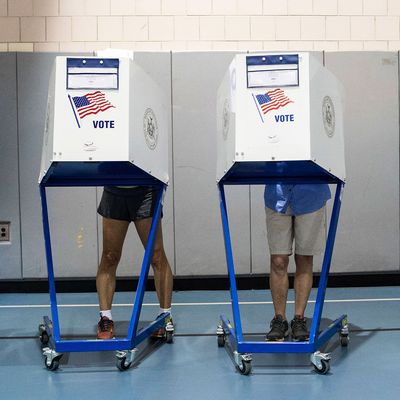 Photo: Michael Brochstein/Sipa USA via AP
Voting in New York's state primaries has proven to be difficult today. Terrible voting laws — and the fact that polls don't even open until noon across much of the state — aside, there's been a widespread outpouring of stories from people who've shown up to cast a ballot only to be told they're not registered to vote.
This includes everyone from New York Magazine's own Rebecca Traister:
To New York City mayor Bill de Blasio's extremely cool son, Dante:
Writer Sean T. Collins even compiled an extensive Twitter thread of people in the same situation, calling the whole mess "vote suppression." If you've also shown up at your polling place and had trouble, here's what to do.
Make sure you're in the right place
First, take a minute to look up your address and confirm that you're at the correct location — polling places can change year to year. If you've already done this, a) please don't get mad at me for reminding you just in case and b) you're good! Move on to the next step. (But be sure that the poll workers have thoroughly checked for your name; some people have said they were able to find their names in the book of registrant signatures after asking to look themselves.)
If you definitely are in the right place, and you still can't find your name, request an affidavit ballot
Once you've confirmed you're at the right polling place and your name is still not on the rolls, request and cast an affidavit ballot. You'll then receive a notice from the Board of Elections in the mail telling you if your ballot was valid. If they tell you your vote didn't count, you then have 20 days to challenge that decision in court. (This is hardly a perfect process, as evidenced in the 2016 presidential election debacle; 78,000 ballots were disqualified and voters did not have the allotted time to appeal.)
Report your issue with voting
Then, there are two numbers you can call to report your issue. Give 866-OUR-VOTE a ring — that'll lead you to the Election Protection coalition, a national, nonpartisan voter protection group. Then dial 800-771-7755 to get in touch with the New York Attorney General office's Election Day Hotline and explain what your problem.
And finally, remember that polls close at 9 p.m. tonight.