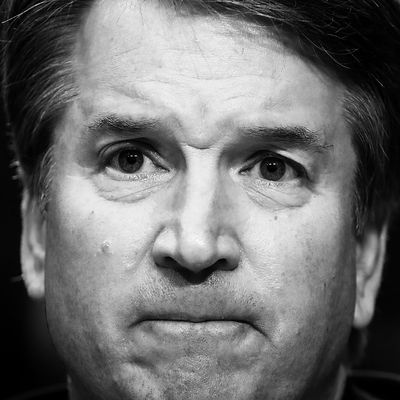 Brett Kavanaugh.
Photo: Win McNamee/Getty Images
On Thursday, Supreme Court nominee Brett Kavanaugh and Palo Alto University psychology professor Christine Blasey Ford will both testify in front of the Senate Judiciary Committee about Ford's allegation that Kavanaugh sexually assaulted her when she was 15 and he was 17. The hearing begins at 10:00 a.m. ET, and will last only one day. Here is what to expect during the hearing.
The hearing will begin with opening statements from Senate Judiciary Committee members Chuck Grassley and Dianne Feinstein, as well as Ford and Kavanaugh.
First, there will be opening statements from Senate Judiciary Committee Chairman Senator Chuck Grassley and Senator Dianne Feinstein, who was the first senator to know about Ford's allegation against Kavanaugh. According to CNN, neither senator will have a time limit on their statements. Then, Ford will read her opening statement, which was released on Wednesday night. Kavanaugh will then read his opening statement, which was also released on Wednesday night.
After opening statements, both Ford and Kavanaugh will be asked questions by the committee members.
Following opening statements, Ford, then Kavanaugh, will be questioned by the senators on the committee. Each senator will be given five minutes to ask questions, with the option to yield their time. Ford and Kavanaugh will not be in the room while the other testifies, and Ford will exit the room before Kavanaugh enters. According to NBC News reporter Frank Thorp, Democrats on the committee are not pleased with the format of the hearing, because they believe they need more times for questions.
Senate Republicans hired a female lawyer to ask their questions.
The 11 Senate Republicans on the committee, who are all men, announced on Tuesday that they had hired a lawyer named Rachel Mitchell to question Ford on their behalf. They said it was to prevent the hearings from becoming a "sideshow." Mitchell is a sex crimes prosecutor from Arizona. Ford's lawyers stated that they did not want a third party to conduct the questioning, and later announced that they were not able to meet with Mitchell before Thursday despite requests to do so.
Here's what else to know:
On Wednesday morning, Kavanaugh and his legal team provided Kavanaugh's calendar for the summer of 1982 as evidence that he did not assault Ford. Ford's allegation was corroborated that same morning by four people who claim that Ford told them about the assault while they were in high school.
Ford was the first woman to come forward with allegations against Kavanaugh. She and her legal team requested an FBI investigation into her allegation, but their request was denied. Since coming forward, she says she has received death threats and was forced to move from her home and hire private security. Two more women, Deborah Ramirez and Julie Swetnick, have since come forward with allegations of sexual misconduct. Neither woman has been scheduled to meet with the Senate Judiciary Committee, and Kavanaugh has repeatedly denied all allegations made against him.