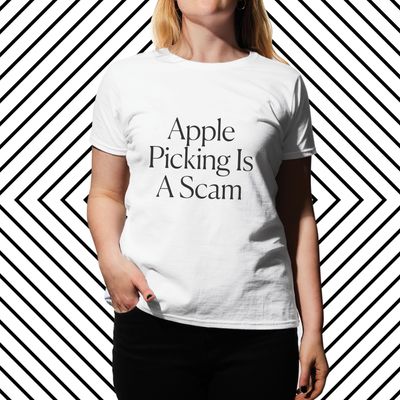 Photo: Courtesy of Amazon.
As promised, new and timely slogans that we're thinking about a lot will be added to the Cut Shop each week. Here's our latest addition.
Do you smell that? It's fall. The season of flannel shirts, pumpkins, and performatively picking apples that you will never get around to eating. The problem with apple-picking is that it inevitably turns into a competition, which is antithetical to the coziness that fall offers. Also the apples are not exceptional and not worth the work.
Tell the world the truth about apple-picking with this T-shirt. Wear it while styling an Anne Geddes–type photo shoot, when drinking a pumpkin spice latte, or while wearing your warmest sweatpants. Or wear it to the orchard to add a little bit of irony to your inevitable apple-picking Instagram photo shoot.
See all the Cut Shop T-shirts, here.