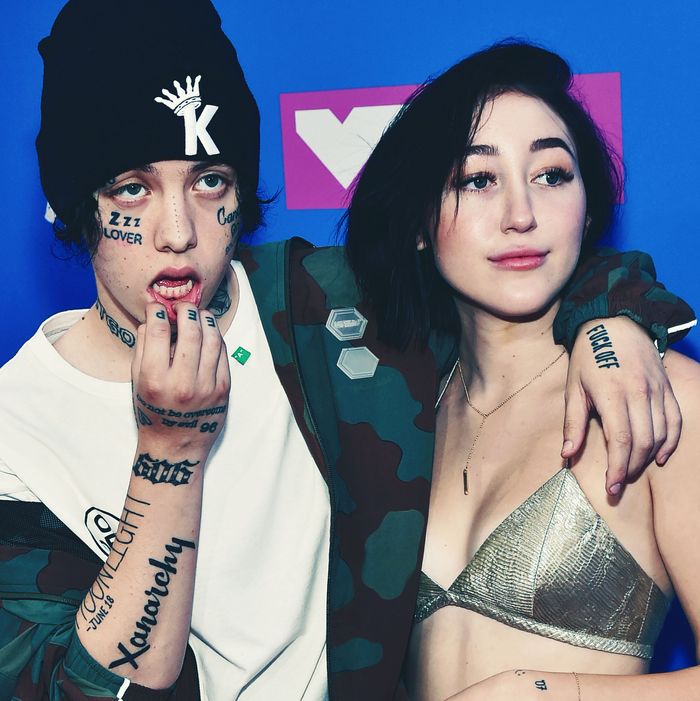 Lil Xan, Noah Cyrus.
Photo: Mike Coppola/Getty Images for MTV
On the tail end of a summer filled with high-speed celebrity engagements, one young couple crashes and burns. At the end of July, Noah Cyrus, the 18-year-old musician and little sister of Miley, went public about her new relationship with rapper Diego Leanos, 21, commonly known as Lil Xan (yes, like Xanax). They quickly acclimated to Hollywood coupledom, posting a series of touchy Instagram Stories and appearing together at the VMAs — the site of an instantly iconic photo in which Lil Xan jams his tattooed face against his girlfriend's in an expression of compulsive love.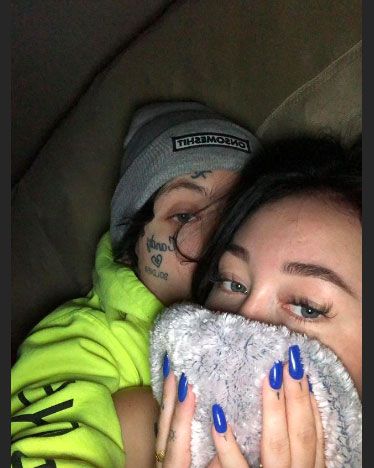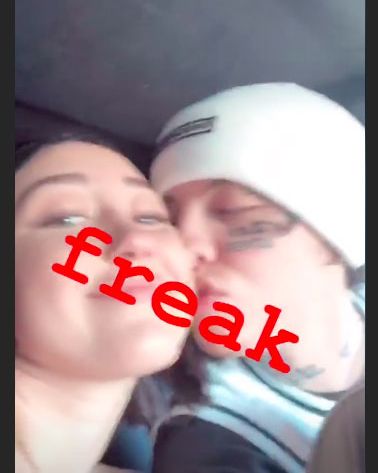 Since the young couple began their romance with a flood of social-media PDA, it perhaps only makes sense that their inevitable downfall was readily available to their followers. On his Instagram Stories Sunday night, Lil Xan wrote, "I feel like I'm being cheated on," then promptly deleted it. Cyrus then raised some eyebrows when she posted a photo on her own Instagram Stories, writing, "Guys, the truth about it all at the end of the day is things suck and that days are gonna suck and that's just okay … Everything's gonna be okay though. I am trying to stay super positive."
Later, Cyrus revealed the message that caused Lil Xan's suspicion of cheating. She posted a screenshot of their texts, with the caption: "im heartbroken and confused. this is the meme i sent diego that made him think im cheating on him." Below a photo of a man endowed with a prominent eggplant emoji, she wrote: "charlie puths head on a pornstars body lol," adding, in the corner, "sorry @charlieputh."
Yes, apparently Noah Cyrus had sent her boyfriend a photo of singer Charlie Puth's head Photoshopped onto the body of a porn star. The next day, she wrote on Twitter, "concerned and confused." (Puth has yet to comment.)
Then what?
Lil Xan then accused his girlfriend of cheating on him, claiming she had posted a photo on Instagram "all over some other dude." Cyrus denied that, alleging that he has more likely cheated on her, as evidenced by the mysterious hickey on his neck.
Lil Xan then addressed the breakup rumors, in a since-deleted Instagram video, saying, "If y'all think that meme is the reason I broke up with Noah, that is hilarious." He convincingly alleged that Columbia Records — the label that represents both him and Cyrus — was behind the whole relationship. "It was something set up by, uh, Columbia Records … Columbia, uh, set it up to boost, uh, her like … y'know … like, everybody shit poppin'," Lil Xan reportedly said. "Shout-out to Columbia Records, too, for setting up that fake relationship. I didn't want to do it, to be completely honest … It was just added work to my schedule, you know what I mean?"
Cyrus swiftly denied the allegation, as did representatives from Columbia Records. According to Lil Xan, the song that the couple had recorded together, called "Live or Die," will not be released.
And then?
Naturally, Lil Xan's response to all this was to urinate on the platinum plaque of his song "Betrayed" — a powerful metaphor for his tender emotional state. "THIS PLAQUE MEANS NOTHING MY FANS MEAN EVERYTHING," he wrote in the caption of the video, which he of course posted on Instagram.
And then??
Cyrus posted a series of Instagram Stories in which she aimed to dispel the rumors. In one, she wrote: "1. if it was fake, why would I be asking you to come over to hang out. why would you be saying good morning baby, and why would my name be Noey 😍 in your phone. 2. in what world can i not ask my boyfriend to promote the song we have together?"
In her next story, which was posted on social media, she urged Lil Xan to stop posting on social media. Cyrus wrote, "diego, please find it in your heart to end this peacefully and not on social media. we could have done this in person or over the phone… It's enough. If you still have an issue that's not resolved then call me so we can stop this insanity."
And THEN?!?
Lil Xan posted on his Instagram Stories, saying, "she's using me to get more popping in the music industry," and that he has more screenshots proving the relationship was fake ("I could keep going all day"). He also posted a highly filtered video of him with a SoundCloud musician named Lucifena, writing, "She made me use this filter 💔😘 Also yes i look cute and she does 2 🎃." Grab the popcorn and stay tuned. (Is the pumpkin the new eggplant emoji, we wonder?)
In the meantime, Cyrus says she isn't mourning the relationship. When discussing her new EP, "Good Cry," with Entertainment Tonight, she said:
"I'm confused, is all I'm going say. It was just a shock for everybody, I think. There's no point in drama, really, just because [I have a] tour, EP, [and a collaboration with] Pizzaslime. I just gotta focus on me right now and I don't really need to have a boyfriend now anyway."
That Pizzaslime collab includes a small vial of liquid labeled "Noah Cyrus Tears" that's being sold for $12,000. According to the product's description, "This is approximately 12 tears made by Noah Cyrus as a result of sadness." The company also warns that "Human digestion of these tears is not suggested cause tears are generally pretty salty and that would just be super fucking weird if you drank someone else's tears."
In her Entertainment Tonight interview, Cyrus went on to acknowledge that the relationship, though tear-invoking, has been beneficial for her writing and singing career. In a moment of sheer vulnerability, she revealed, "I had nothing to talk about until I, like, lived."
This post has been updated throughout.