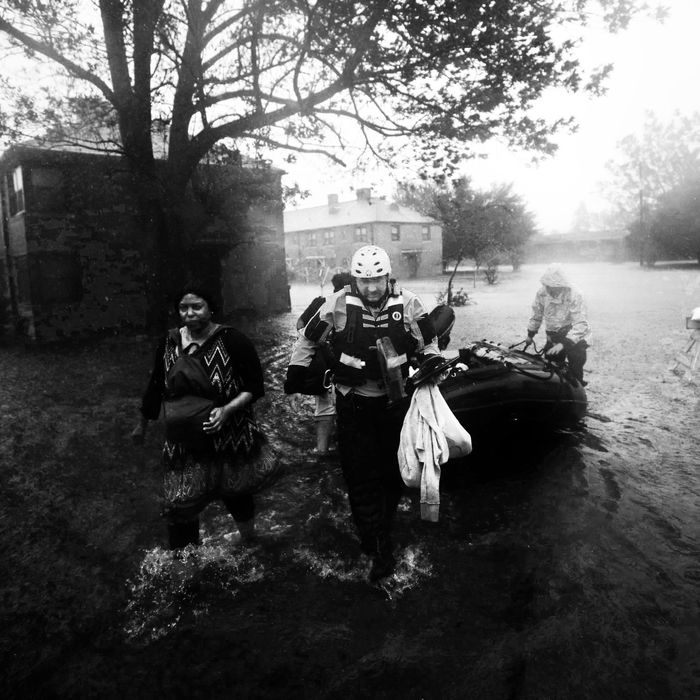 Photo: Anadolu Agency/Getty Images
Early Friday morning, Hurricane Florence made landfall near Wrightsville Beach, in southern North Carolina. The brutal Category 1 storm is currently pounding the coastal regions of North and South Carolina, bringing with it 90 mph winds, gigantic storm surges, and huge amounts of rain. Experts tracking the storm expect its path to cover large parts of the Carolinas, as well as Virginia, Kentucky, Pennsylvania, all the way up to Maine.
"We cannot overstate the threat of catastrophic flooding this storm will bring!" the National Weather Service tweeted Thursday night.
Though it made landfall less than 12 hours ago, Florence has already wreaked havoc on the region. As of Friday morning, CNN reports, emergency officials said over 620,000 people in the Carolinas were without power, 26,000 had evacuated into over 200 emergency shelters, and 4,000 National Guard soldiers have been mobilized to help with the rescue efforts. By Friday afternoon, 2,100 flights had been canceled.
According to this map from National Hurricane Center at 2:00 p.m. on Friday, the storm is expected to dip down into South Carolina, passing over Myrtle Beach Friday night, making its way west to Columbia by Saturday night, and Greenville by Sunday morning, before swinging north, up into western North Carolina. By Monday morning, Florence is expected to make its way into eastern Kentucky, then Pennsylvania on Tuesday, and Maine on Wednesday.
So far, the images from Florence show ferocious rain and terrible flooding in the affected areas.
We will continue to update this post as the path of the hurricane develops.