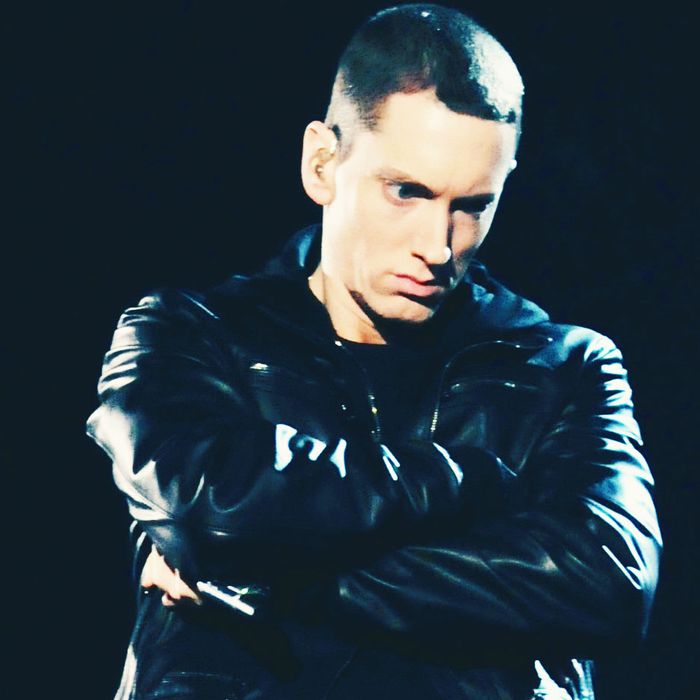 Photo: Lester Cohen/WireImage
The world, which is currently ruled by Rihanna, is not happy about Eminem's newest track, "Killshot" — which opens with the line, "Rihanna just hit me on a text / Last night I left hickeys on her neck." The whole song is designed to shade Machine Gun Kelly, who said in his song "Rap Devil" that Eminem is "The type to be scared to ask Rihanna for her number." But many are saying the line is misogynistic, putting a woman at the center of a feud between two men.
"Rihanna's running an empire. She's not busy leaving hickeys on your neck," DJ Samantha Ronson told TMZ. "Why do you have to bring Rihanna into this fight?…It's just misogynistic and childish. You're basically calling Rihanna a whore so you can get back at Machine Gun Kelly and his man bun. You guys should go to a groomer together." Iggy Azalea also subtly called out Eminem, tweeting: "Diss songs shouldn't be filled with celebrity name drops to pad out lazy bars."
The rest of the Twitterverse, of course, weighed in.
Rihanna has not offered a comment. She's been too busy closing New York Fashion Week with a show for her affordable, size-inclusive lingerie line; running her annual charity Diamond Ball; and working on two new albums.