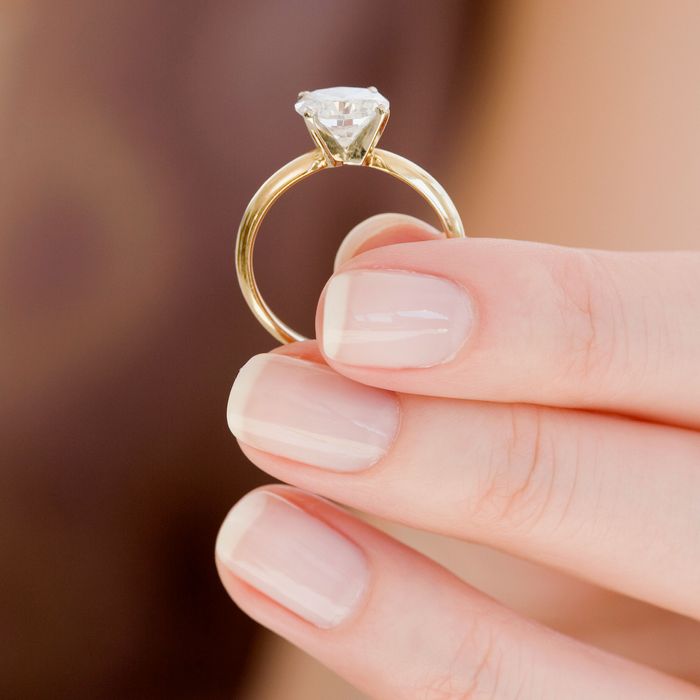 Photo: Jamie Grill/Getty Images/Tetra images RF
When Rodney Ripley proposed to Jennifer Rutten on the Brooklyn Bridge in 2011, he probably wasn't planning on following that up with spending the next five years in courts trying to get the $40,000 ring back. But that's what happened, according to the New York Post.
Within a year of their engagement, the couple split up. But Rutten would not give the ring back. She gave Ripley several explanations, including that she was busy dealing with the aftermath of Hurricane Sandy. By 2013, Rutten still had not returned the ring, and Ripley turned to the courts to try and get it back.
Rutten and her lawyer put up a fight, initially arguing that the ring wasn't valuable enough to merit a legal case. Rutten's lawyer argued that the ring was valued at under $13,000, and the minimum property value required for a civil court case is $25,000.
But Ripley's lawyer was able to provide a receipt proving that the three-carat, cushion-cut ring was purchased for $39,057.10, and that an additional $40,000 insurance policy was taken out for it.
New York law states that engagement rings are conditional gifts, and that if no marriage occurs, they must be returned. Rutten claimed that she didn't give the ring back because Ripley was "more typically abusive, emotionally abusive."
"I was angry," Rutten said. "I didn't want to return it."
The courts did not find that Rutten had sufficient evidence to support her claims of abuse, and ruled in favor of Ripley.
After litigation that bounced back and forth from Wisconsin, where Ripley is from, and New York, a Manhattan Supreme Court judge ruled that Rutten must give the ring back to her former fiancé in 45 days or pay back the full price of the ring to Ripley.