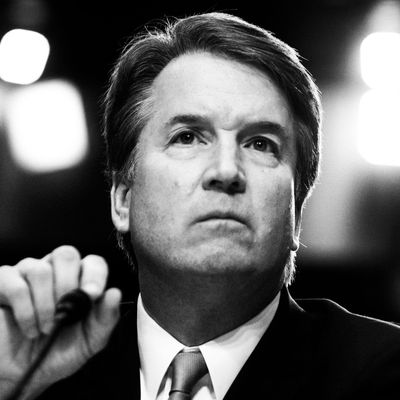 Brett Kavanaugh.
Photo: Melina Mara/The Washington Post/Getty Images
Earlier this week, the New York Times reported that Senator Dianne Feinstein had received a secret letter containing allegations of sexual misconduct against Supreme Court nominee Brett Kavanaugh. A new report from Ronan Farrow and Jane Mayer at The New Yorker sheds light on what that allegation was: The accuser, who asked to remain anonymous, claims that during a high-school party in the early '80s, Kavanaugh and a friend trapped her in a room, where Kavanaugh "held her down, and … attempted to force himself on her."
Per The New Yorker:
She claimed in the letter that Kavanaugh and a classmate of his, both of whom had been drinking, turned up music that was playing in the room to conceal the sound of her protests, and that Kavanaugh covered her mouth with his hand. She was able to free herself. 
The woman also told The New Yorker that although the incident took place over three decades ago, the memory has been "a source of ongoing distress" and she has "sought psychological treatment as a result."
After President Trump named Kavanaugh as his nominee to fill Justice Anthony Kennedy's seat on the Supreme Court back in July, the woman sent letters detailing her allegations against Kavanaugh to her congressperson, Anna Eshoo, as well as Senator Feinstein, the ranking minority member of the Senate Judiciary Committee who was preparing to question Kavanaugh during his confirmation hearings.
But they did not do much with it. Indeed, Feinstein withheld the letter from her fellow Democrats on the Judiciary Committee until this Wednesday, reportedly telling her fellow members the event took place too long ago warrant public discussion, and that she had "taken care of it." On Thursday, she announced she had referred the matter to the FBI.
As a source close to the woman told The New Yorker she felt discouraged by these responses. "She had repeatedly reported the allegation to members of Congress and, watching Kavanaugh move toward what looked like an increasingly assured confirmation, she decided to end her effort to come forward," per Farrow and Meyer.
Kavanaugh said he "categorically and unequivocally" denies these allegations.
After The New Yorker published its report, Senator Chuck Grassley, the Chairman of the Judiciary, released a letter sent to him by 65 women who say they knew Kavanaugh in high school.
"We are women who have known Brett Kavanaugh for 35 years, and knew him while he attended high school between 1979 and 1983," they write. "For the entire time we have known Brett Kavanaugh, he has behaved honorably and treated women with respect."
Read The New Yorker's full report here.