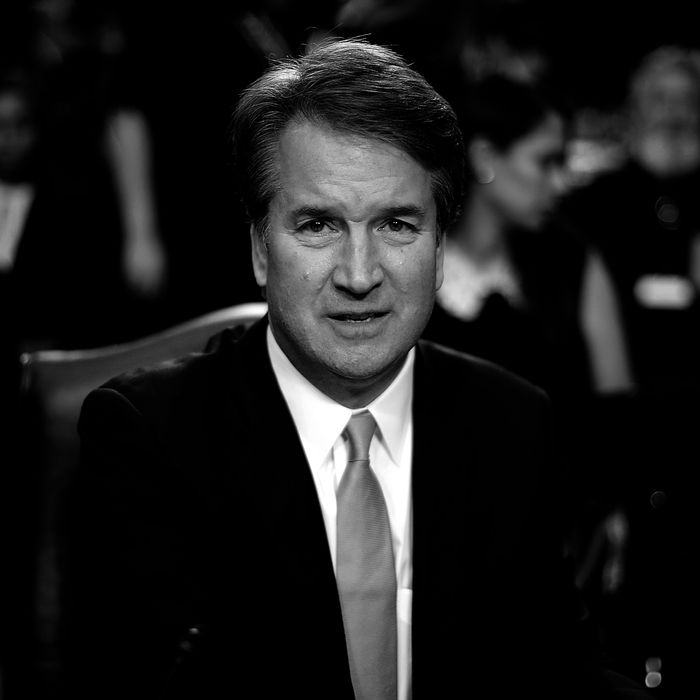 Brett Kavanaugh.
Photo: Chip Somodevilla/Getty Images
A new report by the New York Times examined Supreme Court nominee Brett Kavanaugh's senior yearbook from high school. The report investigated 14 references made to a woman named Renate Dolphin on pages where Kavanaugh was pictured. They often said "Renate Alumni" next to group photos of the football team but also included "Renate Alumnus" underneath a portrait of Brett Kavanaugh.
Dolphin was in the same year as Kavanaugh — she is one of the 65 women who signed a letter of support for Kavanaugh after Christine Blasey Ford came forward with an allegation of sexual assault from when they were in high school. Dolphin told the Times she was not aware of the "Renate Alumni" references made in the yearbook.
"I learned about these yearbook pages only a few days ago. I don't know what 'Renate Alumnus' actually means," Ms. Dolphin said in a statement to the Times. "I can't begin to comprehend what goes through the minds of 17-year-old boys who write such things, but the insinuation is horrible, hurtful and simply untrue. I pray their daughters are never treated this way. I will have no further comment."
One man who attended Georgetown Prep at the time said that Kavanaugh and his group of friends were "fratty." A former football player described their behavior as "very disrespectful, at least verbally, with Renate." Another said that "people claiming that they had sex with other people was not terribly unusual, and it was not terribly believable."
Several of the men who were pictured with the caption "Renate Alumni" or similar phrases claim that there was nothing untoward about the words in the yearbook. In a joint statement from four of the men, they said that the captions "intended to allude to innocent dates or dance partners and were generally known within the community of people involved for over 35 years," and insisted that the comments were "never controversial."
Other men who were pictured with the "Renate" captions, including Mark Judge, declined to comment.
"Judge Kavanaugh and Ms. Dolphin attended one high school event together and shared a brief kiss good night following that event," Kavanaugh's lawyer Alexandra Walsh, told the times. "They had no other such encounter."
Dolphin said she never kissed Kavanaugh. "I think Brett must have me confused with someone else," she said.
Multiple sources told the Times that there was never a sexual relationship between Dolphin and Kavanaugh, including Dolphin herself. Kavanaugh also told Fox News that he was a virgin throughout high school, which further reinforces Dolphin's statements.