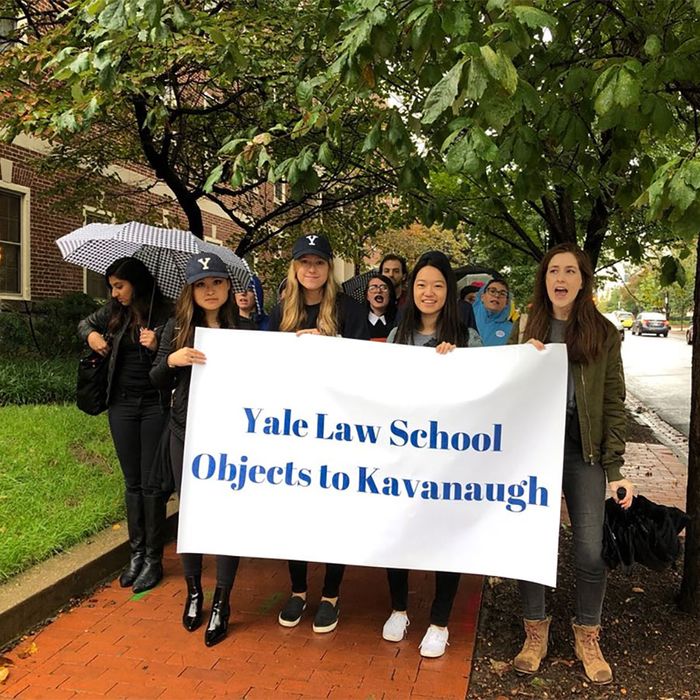 Yale Law School students protesting Brett Kavanaugh.
Photo: Yale Law Students Demanding Better
After covering Yale Law School in posters condemning the university's support of Supreme Court nominee and Yale alumnus Brett Kavanaugh last Friday, students are continuing to protest what they see as their school's complicity in supporting a man accused of sexual misconduct. This time, they're taking action both inside the walls of the school and in Washington, D.C. Today, 115 YLS students bussed down to the U.S. Capitol, while dozens of others are occupying their school's halls in a sit-in to demand that the Senate committee conduct a fair and impartial investigation into the mounting sexual-assault allegations against Kavanaugh.
"We're organizing both to oppose the hasty, biased, and incomplete investigation of the Brett Kavanaugh sexual assault allegations and to support and stand with Professor Christine Blasey Ford, Debbie Ramirez, and all people who have experienced sexual violence and sexual harassment," YLS student Veronica Guerrero said, referring to the two women who have publicly accused Kavanaugh of sexual assault.
By early Monday morning, members of the law school faculty had already cancelled 31 of the day's scheduled classes in anticipation of the planned student actions, which follow last week's silent protest. Law student Dana Bolger, who's among the 115 YLS students protesting at the Supreme Court and meeting with senators in Washington, D.C., today, told the Cut that everyone is "mad as hell."
"It is unconscionable that it is 2018 and the Senate is set to repeat the same shameful mistakes of over two decades ago," she said, referencing Anita Hill's testimony in 1991 against then-Supreme Court nominee Clarence Thomas, who she accused of repeated sexual harassment. "We should be past this."
Meanwhile, in New Haven, students dressed in black filled YLS's halls, where an organizers told protestors that as a community, they were there to "discuss the very real threat that Brett Kavanaugh poses to this country" and "to show that we take allegations of sexual assault and harassment seriously." Connecticut senator and Yale graduate Richard Blumenthal also made an appearance at the sit-in, where he told students, "There is no way that the US Senate, in good conscience, can vote on this nomination without a full investigation."
Blumenthal later told reporters that Kavanaugh's accusers must be heard, and that "they have a right to tell their stories when and how they wish."
As of Monday morning, Kavanaugh is facing a number of sexual-assault allegations, which first came to light two weeks ago, after Christine Blasey Ford accused the SCOTUS nominee of sexually assaulting her while they were both in high school in the 1980s. Just last night, the judge was hit with another accusation: One of his former Yale classmates, Deborah Ramirez, told the The New Yorker that Kavanaugh drunkenly thrust his penis in her face, which caused her to touch it against her will, in the 1980s. Later that night, lawyer Michael Avenatti tweeted that he is representing a woman with "credible information regarding Judge Kavanaugh," and a Montgomery County Sentinel report on Monday revealed that local investigators are looking into allegations against Kavanaugh from a potential fourth accuser. (Kavanaugh denies assaulting Ford, or any woman.)
At YLS, students say the allegations are especially infuriating because of their school's "complicity" and "facilitation" of Kavanaugh's alleged behavior. Just last week, reports emerged alleging that two YLS professors had instructed their female students who were interested in clerking for the SCOTUS nominee to present "model-like" femininity.
In response to today's demonstrations, Yale Law School Dean Heather Gerken released a statement in which she acknowledged that the accusations against Kavanaugh are "rightly causing deep concern at Yale Law School and across the country."
Her statement continued, "Students have worked with the Law School administration and faculty so that the community can come together as a whole to discuss this important moment in our country's history."
But until there is a full, fair, and impartial investigation of the sexual assault allegations against Kavanaugh, YLS students say they will continue to feel overwhelmed with disillusionment and frustration.
"Our school's complicity in pushing forward this nominee must end now," Bolger told the Cut.