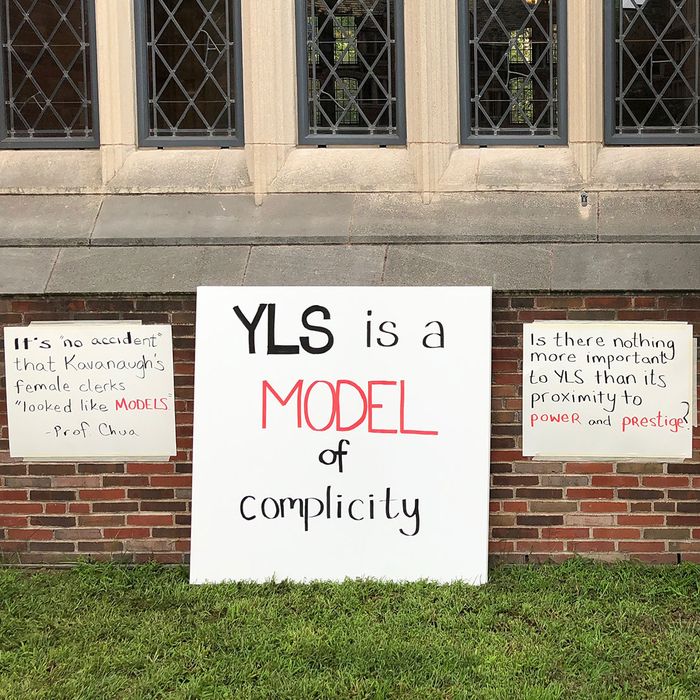 Protest at Yale Law School.
Photo: The Yale Law students who organized the protest
In the wake of the sexual-assault allegations against Supreme Court nominee Brett Kavanaugh, reporters began to more closely examine his time at Yale. As an undergraduate, he was a member of Delta Kappa Epsilon, a well-known "party frat" that rose to national infamy in 2011 after videos circulated of recruits chanting, "No means yes, yes means anal." After graduation, he went on to clerk for the now-disgraced Judge Alex Kozinski, who retired last year after more than 15 women accused him of subjecting them to unwanted, inappropriate sexual behavior for years. (Kavanaugh claims he had no knowledge of Kozinski's alleged misconduct, but skeptics find that unlikely.)
And yesterday, another report emerged about Kavanaugh's time at Yale Law School: According to former students, Yale professor Amy Chua would tell young women who were interested in clerking for Kavanaugh that it was "not an accident" all of his female clerks "looked like models," and would encourage them to present "model-like" femininity in order to impress the judge. Her husband Jed Rubenfeld, another prominent YLS professor who is currently under investigation for his conduct with female law students, is accused of making similar remarks.
Yale officials have denied any knowledge of these last allegations, calling them "clearly unacceptable" and "of enormous concern" — but some students at the law school aren't buying it.
This morning, protest signs appeared across the YLS campus, in a striking representation of disillusionment and frustration that students are feeling. "YLS is a model of complicity," reads one in the school's courtyard. "Is there nothing more important to YLS than its proximity to power and prestige?" demands another. A photograph of Kavanaugh that hangs inside the school is flanked by a pair of signs as well: "We still believe Anita Hill," one says. "We believe Dr. Christine Ford," reads another, referring to the woman who has accused Kavanaugh of pinning her down to a bed when they were both in high school, trying to rip off her clothing and putting his hand over her mouth to muffle her screams. (Kavanaugh denies assaulting Ford, or any woman.)
"Today's protest in the courtyard is in direct response to yesterday's media reports regarding Yale Law School's complicity in and facilitation of federal judges' sexual harassment of and discrimination against their clerks, particularly with regard to Judge Kavanaugh," the Yale Law students organizing the protest told the Cut. "Yale Law School is an educational institution, and its failure in the last day to take these allegations and its students' safety and concerns seriously is deeply disappointing."
When asked to describe the sentiment on campus today, YLS student Scott Stern said that "students are monumentally pissed off" — and not just those who he considers to be especially political.
"It's hard to overstate just how destabilizing this is for the law school," he continued. "Chua and Rubenfeld walked around here like gods. They were among the two most powerful, best-connected professors at the school … So to learn just how complicit they were in steering us toward known predators has people very upset and freaked out."
Many of the demands behind the protest are immediate: Students want to see the results of the university's investigation into Rubenfeld's alleged behavior, and they want YLS to investigate whether professors and administrators knew of any sexual-assault allegations against Kavanaugh and Judge Alex Kozinski. But students also want systemic change related to the clerkship process, and for the school to disrupt oppressive systems of power — not enable them.
"[Yale] fetishizes power and prestige," Stern said. "It's actively complicit in the grooming of people like Kavanaugh for positions of power. And it teaches people like Kavanaugh that they are so deserving of power that they can do whatever they want to get it."
Friday afternoon, the Yale Law faculty released an open letter to the Senate Judiciary Committee, urging that the Senate "conduct a fair and deliberate confirmation process," and that the FBI be given "adequate time to investigate facts" related to Ford's sexual-assault allegation. While a long list of faculty members signed the letter, names missing from the statement included Chua, Rubenfeld, liberal professor Akhil Ahmar, and Dean Heather Gerken, whose silence inspired the hashtag #WheresGerken.
Following the publication of the faculty's open letter, Gerken released a statement of her own, claiming that as Dean of the Law School, school policy prohibits her from taking a position "for or against a nominee." She says that she does, however, "support the efforts of individual faculty members to engage with these important issues."
Per an email from the "YLS Student Leaders" provided to the Cut, organizers are planning protests on Monday and Tuesday as well, and are asking professors to publicly stand in solidarity with their students.
"The coming days are an opportunity for each of us to reflect on this critical moment, our roles in it, and the climate in our community," the email reads. "As a part of this community, we are all responsible for perpetuating this culture, and hope that this will be a moment of reckoning for all of us."
This post has been updated.