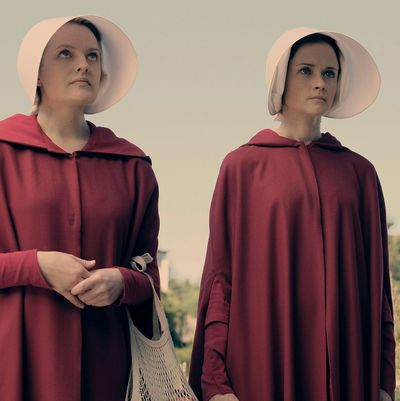 Elisabeth Moss and Alexis Bledel in
The Handmaid's Tale.
Photo: Courtesy of Yandy.
Every year, fall arrives with the same reliable signifiers: the days get shorter, the weather gets cooler, and sexy Halloween costume manufacturer Yandy releases a new ridiculous topical costume. Previous groundbreaking designs from the online emporium include Sexy Pizza Rat, Sexy Cecil the Lion, Sexy Poop Emoji, and Sexy Ken Bone. (Sexy Lobster remains my perennial favorite.)
This season, however, Yandy faced so much backlash over their costume of the moment that they pulled it. On Wednesday, their "Brave Red Maiden" outfit — a skimpy version of what the handmaids wear in the dystopian drama The Handmaid's Tale — went live, retailing for $64.95. "An upsetting dystopian future has emerged where women no longer have a say," the description read. "However, we say be bold and speak your mind in this exclusive Brave Red Maiden costume featuring a red mini dress, a matching cloak with an attached hood, and a white bonnet headpiece. (Pantyhose not included.)"
This, predictably, did not go over well.
As of Friday morning, the costume has been removed and the following (truly poetic) statement has been added in its place:
Yandy always has stood, and will continue to stand, at the forefront of encouraging our customers to "Own Your Sexy". We support our customers being comfortable in their skin, regardless of who they are or what they choose to wear. Our corporate ideology is rooted in female empowerment, and gender empowerment overall.




Over the last few hours, it has become obvious that our "Yandy Brave Red Maiden Costume" is being seen as a symbol of women's oppression, rather than an expression of women's empowerment. This is unfortunate, as it was not our intention on any level. Our initial inspiration to create the piece was through witnessing its use in recent months as a powerful protest image.




Given the sincere, heartfelt response, supported by numerous personal stories we've received, we are removing the costume from our site.
Happy Halloween!