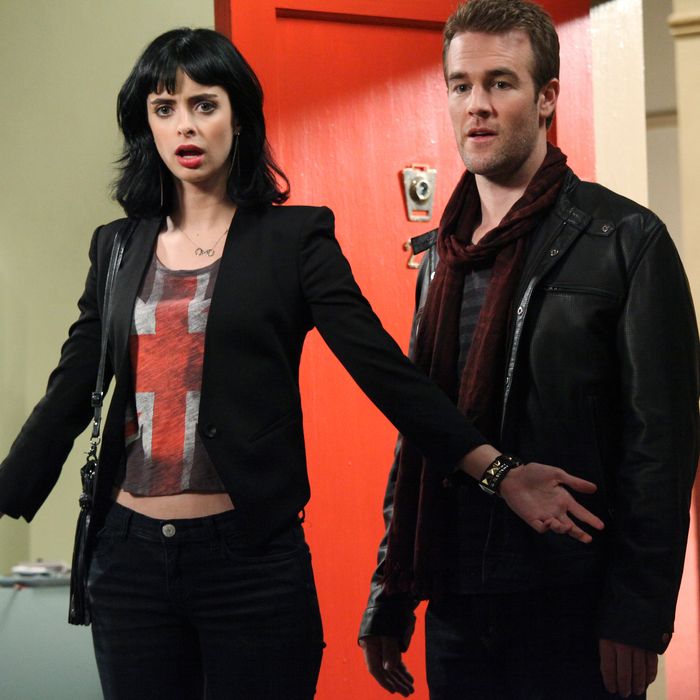 Chloe (the "B") and James Van Der Beek.
Photo: Richard Cartwright/ABC via Getty Images
It's U.N. General Assembly time in New York City, and please keep reading. If you recall the third episode of the 2012 ABC sitcom Don't Trust the B— in Apartment 23 you might remember that U.N. General Assembly time is bitch-character Chloe's "busy season," during which she "entertains" visiting dignitaries and makes most of her yearly income. (Also in the episode she adopts a foster child to work for free as her assistant.) It's on this tenuous peg that I am going to hang this great piece of advice: You should watch Don't Trust the B— in Apartment 23 on Hulu.
The show, created by Nahnatchka Khan (who went on to create Fresh Off the Boat), follows the friendship of roommates Chloe and June, and also James Van Der Beek, who plays himself. Chloe, played brilliantly by Krysten Ritter, is a hard-partying con artist; June, played perfectly by Dreama Walker, is a too-trusting Midwesterner trying to make it in the big city; James Van Der Beek, played so hilariously by James Van Der Beek that I cannot even believe it please you must watch this show either for the first time or again I beg of you, is (I assume) a much more conceited version of James Van Der Beek. Eric Andre is also on it, and he plays basically just a normal guy.
The show, originally developed for Fox in 2009 but picked up by ABC in 2011, had a short first season in 2012 and a second in 2013. It was canceled about halfway through, and ABC declined to air its remaining eight episodes, which to me seems extraordinarily rude. (Luckily, they are available to stream.)
It is a remarkably funny show, remarkable not only because it originally aired on ABC (it would be just as funny on Netflix or whatever) but also not-not because of that. It is odd to me that Don't Trust the B — mean, sex-obsessed, so weird, genuinely funny, featuring James Van Der Beek as himself — ever aired on network TV, even for 1.5 brief seasons. Chloe's recklessly inhumane scheming is, I think, most directly comparable to that of the It's Always Sunny gang. The main difference here is it's often cut with a soft edge: Chloe scamming her parents out of money so June can see hers, or setting up a jam fetish cam site so they can both pay their rent, or tricking James Van Der Beek into thinking the rest of the Dawson's Creek cast wants a reunion just so he can say no, or causing a scene at a wedding to make June's ex-boyfriend jealous. It is usually a tiny bit sweet, in that network-y comedy-that-is-still-good-like-Happy-Endings sort of way.
If you didn't watch Don't Trust the B— in Apartment 23 the first time around, you are probably one of mostly everybody, including me. It's fine. It's a new day. The "b—" is here as she always was, in her apartment. If you watched it sometime after it aired and had gained its somewhat "cult" status, then you are probably one of more people, including me. If you watched it while it was on TV, well, good for you; see what I care. If you are any of these people I recommend streaming it now, on Hulu where it is available, or if you can find it somewhere else.
You should watch or rewatch Don't Trust the B— in Apartment 23 primarily because you deserve it. It is so funny. It is distractingly funny. You are not thinking about [BAD THING 1], you are not thinking about [BAD THING 2] you are not thinking about [WORST THING], you are just laughing at a face Krysten Ritter made right at the funniest moment. Krysten Ritter is a dream and she deserves to be the star of many more comedies than just this one. And it is nice to watch two women be so funny together. James Van Der Beek plays James Van Der Beek with the complete abandonment of real James Van Der Beek's ego and it is so fun. At one point Busy Philipps is on an episode as herself and she says, to James Van Der Beek, who ordered for her at a restaurant but then admits he doesn't know what women eat, "Oh, sweetie, we don't eat. We just live in caves, having our periods, until it's time to have sex with the first guy who buys us a wine cooler and reminds us of our dad," and that is just so funny. All the episodes are so short and you can just watch one right after the other and you don't even have to think about anything. For the sake of your mental health I must recommend that you either watch or rewatch Don't Trust the B— in Apartment 23.
Thank you.