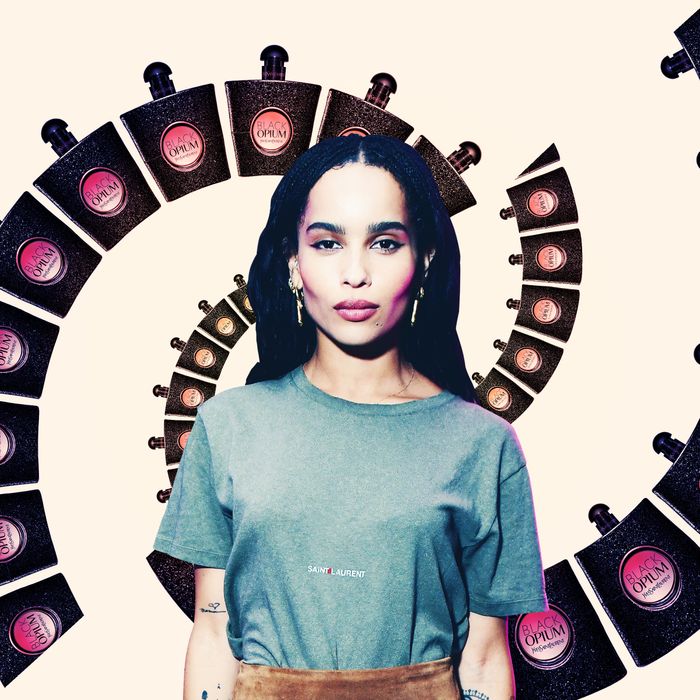 Call it the Proust effect: Memories are often triggered by smells. Scientific studies confirm that out of all the senses, smell offers the best recall. In Scent Memories, the Cut asks people about the scents they associate with different times in their lives. Next up is Zoë Kravitz, actor, musician, all-around cool person, and the newest face of YSL Black Opium. The Cut spoke with Kravitz about the scent of musk, Indian incense, smelly earring backs, and sage.
My first scent memory is: My grandmother's house, which is kind of musky. And she'd always make me pancakes, so: Musk and maple syrup. Which, actually, is what Black Opium kind of smells like, for real … [laughs].
Happiness smells like: Definitely food. Like bacon. Sautéed onions also make me really happy. It's instant deliciousness.
Love smells like: Sweat.
Heartbreak or loss smells like: Salt, from tears. And whiskey … or wine.
Regret smells like: Tequila.
Friendship smells like: Also tears, because it's a safe place to cry and also sometimes you laugh so hard that you cry.
Vacation smells like: Coconuts, salt water, and fresh air.
The worst smell is: Trash that's been outside is a really bad smell. And also, when you have an earring that you've left in forever, and you smell the back of it and then you can't stop smelling it for some reason. Do you know what I'm talking about? That is the worst smell.
Sunday morning smells like: Coffee.
Monday morning smells like: Double espresso.
My home smells like: Nag Champa, weed, and good food being cooked.
My favorite food smells like: Fried things, fried anything: Fried chicken, french fries…
If I could have one smell on my hands forever, it would it be: Maybe sage. It's not too sweet and something you wouldn't get too sick of.
I smell like: Black Opium, baby!
If you buy something through our links, New York may earn an affiliate commission.