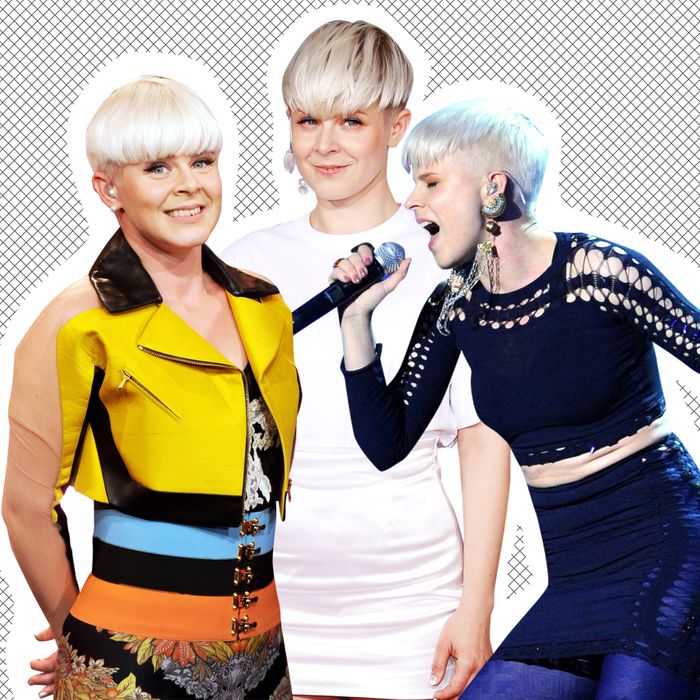 Today, Swedish pop goddess Robyn releases Honey, her first album in eight years (the last being the exhilarating, emotionally devastating Body Talk trilogy). In addition to being a genius songwriter, a poignant singer, and literally perfect in every imaginable way, Robyn has a singular fashion sense. To celebrate her triumphant return, we look back at some of her eclectic style highlights.
1. Cozy "Call Your Girlfriend" Robyn
The "Call Your Girlfriend" video is one-take, feelings-pop perfection, made all the more iconic by the twinkling, slyly smug lyrics it accompanies and the remakes it inspired. Robyn's colorful (candy print?) leggings, wedge sneakers, and yes, that shaggy, baby-pink sweater are danceable, floor-humpable, and somersaultable, like all the best Robyn outfits are.
2. Mad Max-Meets-Grease-Jock Robyn
Robyn loves an outfit that begins with a cropped jacket she can later whip off, and who can blame her? Here she looks as though she is ready for desert warfare or the homecoming game against our No. 1 rival. And yet, these pieces make sense together? I don't know how she does it.
3. Club Kid Robyn
By Robyn standards, this is a pretty simple look, patterned leggings and all, but I feel it's important to note that Robyn did the whole matching cropped separates thing long before Taylor Swift ever did.
4. Plastic-Veined "Indestructible" Robyn.
Not enough people wear outfits that incorporate moving parts, and in the video for "Indestructible," Robyn set out to amend that, with a plastic tubed bodysuit through which different colored liquids flow, depending on her mood.
5. Ski Bunny Robyn
This is one of very few Robyn outfits I feel like I could pull off. I am incorrect, but the thought is nice. It's also an outfit I can easily imagine being lovingly described by Francine Pascal in Sweet Valley High: "Jessica wore a slouchy oatmeal sweater over gray leggings with a geometric white pattern on them, and bright white lace-up boots."
6. Robyn, Queen of Crop Tops and Bike Shorts
The dance-friendly ventilation! The sexy/sporty mix! The combat boots that go with everything, apparently! How DOES she do it?
7. Grecian Space Goddess Robyn
Can you imagine Robyn wearing a dress that doesn't have a flap of extra fabric like a cape for her legs? How boring. What you cannot see in this photo are the platform sneaker-boots on her feet, but trust that they complete the look perfectly.
8 . Business Freak Robyn
This is as close to business casual as Robyn will ever get: a khaki-colored bodycon dress with a Jetsons-style collar and shoulder detail, a neon bag, and — of course — forest green suede platforms. I'd do anything for her.
9. Political Activist (?) Robyn
Is "Milk Kills" just a funny thing for a cropped white T-shirt to say, or is it a subtle critique of white nationalism? Okay, probably the former. But I wouldn't put it past Robyn to foresee our present political climate back in 2011. She just seems like she knows things!
10. Her Holeyness, Robyn
This was during Robyn's brief, glorious mullet period, the existence of which proves the woman can do no wrong. Who could wear this shirt but Robyn, a living hologram? God bless her.