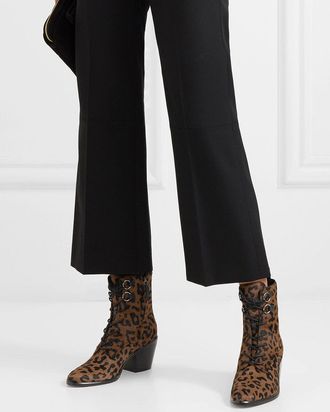 Photo: Courtesy of the Retailer
Almost every pair of pants is at least a little bit cropped now, whether a Sabrina-style ankle-revealing crop or the wide-leg crop popularized by Jesse Kamm and Everlane. This presents a challenge: What shoes can you wear with them in cold weather that are nicer than a sneaker and socks? An ankle boot or a heel leaves a bit too much lower shin exposed to the frigid air. The key, then, is a bootie with at least a six-inch shaft, so there's not a huge gap between the hem of the pants and the top of the boot. The shaft should also be somewhat tight up your leg. And voilà! The perfect way to wear your cropped pants into the cold winter months.
The Starter Boot
A neutral brown boot will go with any cropped pant.
The Statement Shoe
The Shiny Option
If Comfort Is Key
You don't have to wear heels to make the outfit work. A trusty pair of Docs will do the trick.
If You're Buying Into the Western Trend
Western-inspired dressing has been everywhere lately, but these are subtle enough to last for more than one season.
The Party Shoe
Dress these shoes down with a pair of jeans and a T-shirt. They speak for themselves.
The Unexpected Color
Teal is a modern way to add color into a look.
The Punk Option
Nothing like four large buckles to add a little bit of edge.
The Mod Shoe
Photo: 18-08-16 Accessories AM2 B2 dylanremis W
A sleek way to embrace your inner go-go dancer.
The Patent-Leather Option
Brown patent leather is unexpected, but feels so now.
The Animal-Print Option
A little bit Victorian thanks to the lace-up front, but very large bit stylish.
If you buy something through our links, New York may earn an affiliate commission.