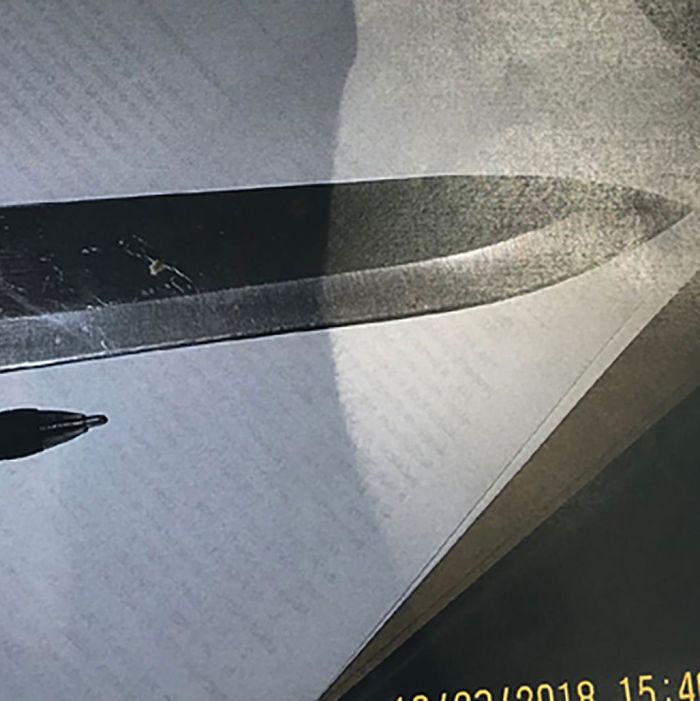 Florida knives.
Photo: Bartow Police Department
Two middle-school girls, wielding multiple knives and a goblet, were found in a bathroom stall of their central Florida middle school, where police say they were planning to kill and drink the blood of younger students in an attempt to bring themselves closer to Satan.
Per the Bartow Police Department, the 11- and 12-year-old students at Bartow Middle School were self-described Satan worshippers who hatched their plan to murder up to 25 classmates after watching scary movies over the weekend. As stated in the police warrant, the girls were scheming to wait for the younger children in the bathroom, where they would kill them, mutilate their bodies, drink their blood, eat their flesh, and then kill themselves.
"The plan was to kill at least one student but were hoping to kill anywhere from 15–25 students," reads a warrant filed by the department. "Killing all of these students was in hopes it would make them worse sinners ensuring that after they killed themselves … (they) would go to hell so they could be with Satan."
But on Tuesday afternoon, the girls' plot was foiled when the school robocalled one of their parents to inform them that their daughter was missing from school, Bartow Police Chief Joe Hall said. When the girl's mother told the school that she should be in class, authorities began searching for her and discovered the two girls in the bathroom, where they were hiding with with four knives, a pizza cutter, a knife sharpener, and a goblet.
Following the police's discovery of the girls on Tuesday, WTVT reports that investigators found disturbing texts on their cell phones, including one that read, "We will leave body parts at the entrance and then we will kill ourselves." Detectives also found incriminating evidence in the girls' homes: a drawn map that included the phrase "go to kill bathroom," and a note that read, "Today is health lesson thank Satan we are doing this in bit."
In a news conference on Wednesday, Hall said the girls were arrested and charged with conspiracy to commit murder, possession of a weapon on school property, carrying a concealed weapon, and disruption of a school function. However, prosecutors are still determining whether to try their girls as juveniles or adults, Deputy Police Chief Bryan Dorman told the Associated Press in an email.
"Today is sad," Polk Schools Superintendent Jacqueline Byrd said at the news conference with Hall. "We have students who were plotting to kill other students."