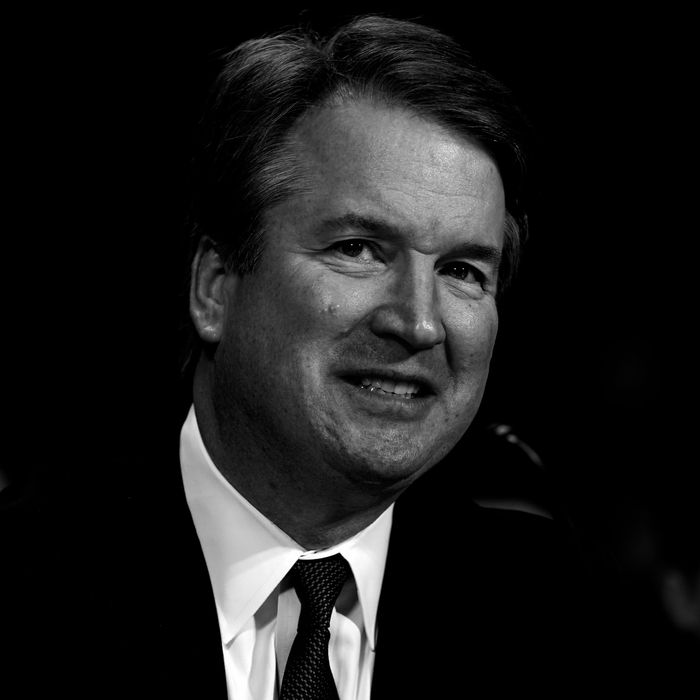 Supreme Court nominee Brett Kavanaugh.
Photo: Andrew Harnik/Getty Images
More than 650 law professors from colleges and universities across the country signed their names to a letter to the senate arguing that senators should not vote to confirm Supreme Court nominee Brett Kavanaugh.
"We are law professors who teach, research and write about the judicial institutions of this country," stated the letter, which was published in the New York Times opinion section on Wednesday night. "We regret that we feel compelled to write to you, our Senators, to provide our views that at the Senate hearings on Sept. 27, Judge Brett Kavanaugh displayed a lack of judicial temperament that would be disqualifying for any court, and certainly for elevation to the highest court of this land."
The letter did not address Kavanaugh's stances as a judge, such as his history with abortion issues and reproductive health, nor did the letter directly deal with the multiple allegations of sexual misconduct against him. Rather, the signed letter doubted Kavanaugh's ability to serve on the court as an impartial judge — based on his behavior during last week's senate hearing.
"Instead of being open to the necessary search for accuracy, Judge Kavanaugh was repeatedly aggressive with questioners," read the letter. "Even in his prepared remarks, Judge Kavanaugh described the hearing as partisan, referring to it as 'a calculated and orchestrated political hit,' rather than acknowledging the need for the Senate, faced with new information, to try to understand what had transpired."
The letter, which was signed by law professors from institutions like New York University, Harvard, Arizona State University, University of Wisconsin, and hundreds of others, was published two days before senators plan to hold a floor vote on Kavanaugh's confirmation. The FBI is currently investigating an allegation of sexual assault made by Christine Blasey Ford from when Ford and Kavanaugh were in high school during the 1980s.