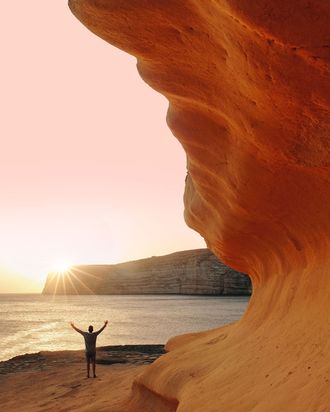 Photo: Courtesy of How Far From Home
Weekend With is an ongoing Instagram series that features people we like photographing places we'd like to be. Follow @thecut on Instagram to join in, and tag your photos with #weekendwith when you travel somewhere new.
The setup is the perfect way to meet people, and travel bloggers Chanel Cartell and Stevo Dirnberger (@howfarfromhome) are the perfect example. The two met on a blind date in 2010, and they've been traveling the world together for nearly four years now, visiting 55 countries and counting. Recently, they booked an apartment for a month in Malta but underestimated how much it had to offer.
"Malta was one of those long-stay-to-relax kind of trips. We booked an apartment for a month, and hoped to get some editing done, and then spend the rest of the time relaxing and exploring. What we didn't realize is just how much there'd be to see in such a small country, and we barely saw it all," Cartell says.
Between the turquoise blue water and landscapes that look straight out of a Star Wars set, the pair saw as much of Malta as they could. "Every corner, every cliff, every time we stopped, there was something beautiful to marvel at. We could've spent a lot more time than just month seeing the natural beauty, so we're definitely hoping to return one day."