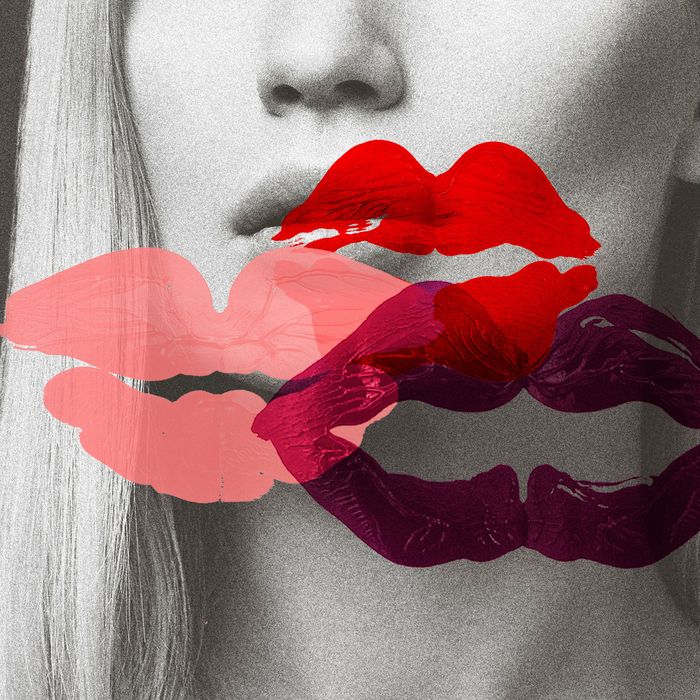 Photo: Photo Illustration by Stevie Remsberg/Photo Getty
I have, in the past few years, spent at least a few hundred dollars on lipsticks I have worn exactly once. I bought all of them for other people — made-up people I briefly imagine myself to be.
The last lipstick I bought, for example, was Pat McGrath's LuxeTrance Lipstick in McGrath Muse. It cost $38 and came in a heavy metal tube with a magnetic clasp in the shape of large gold lips. It is flat, rich, matte brick-orange red, and it is one of the more practical lipstick purchases I have made in years, which is to say I have worn it a total of four times.
In my makeup drawer, the various primers, concealers, foundations, tubes of eyebrow gel, dramatic mascaras, and approximately 1 million highlighters are all things I actually use. I buy them regularly because they make sense with what I actually look like and how I choose to present myself.
Except for the lipstick. My lipstick purchases are governed by a part of my brain that cannot accept the difference between who I actually am, and who I imagine myself to be. I buy lipsticks for imaginary selves. They are like an evening gown you buy in the hopes that one day you might be invited to a black-tie gala, despite not having a life that includes black-tie galas in any way.
I bought NARS lipstick in Train Bleu, a velvety midnight-purple, immediately after seeing it on a beauty-editor friend. I couldn't resist the idea of being a sort of grown-up reformed-goth creature of elegance dripping with witchy accessories, the kind of woman who was actually able to wear all the weird glassy-eyeshadow trends and long acrylic fingernails in perfectly posed Instagrams. I wanted this lipstick because I can't help but be drawn to the bravado of the creepy-fashion-girl vibe, the way it promises to act as proof that I could steer as hard as possible against beauty and yet still be beautiful.
I haven't worn MAC Cosmetics' Ruby Woo, a lipstick famous for being a truly universal red, in at least six years. But I bought a new one when I misplaced my last tube because it's the lipstick that my younger self wore, a lipstick for when the important part of the day doesn't start until 1 a.m., the lipstick I fell asleep in when I came home several hours after sunrise. I want to believe I might wear it again because I want to believe I haven't really gotten any older, and that my life is still interesting enough to require a matte bright-red lipstick for weeknights.
When I bought Bite Beauty's Amuse Bouche Lipstick in Tannin, I was sure it was going to be a dark lipstick I would actually wear often. But I've slowly realized that this is, quite simply, a lipstick for someone who has a lot more money than me. I wanted to believe I would wear this lipstick because a craven and basic part of me still aspires to be the kind of woman who wears stiletto heels and perfectly pressed button-downs everyday; a woman with a closet full of $400 bras, who has in-depth conversations about wine while wearing a perfectly applied autumnal burgundy lip.
I really wanted to be someone who would wear Urban Decay's lipstick in 69, a violently bright, oil-slick shiny magenta-red that I bought myself on my birthday a few years ago and wore exactly once. Maybe I wouldn't wear it regularly, as it's not by any measure an everyday color. But I hoped I might at least wear it for special occasions. I wanted to be someone who would wear this color because that person seemed like someone who had managed to make the bells and whistles and bows and hooks and expectations and standards of Being a Woman into something more joyful than exhausting. She's the kind of woman who wears pencil skirts every day, and looks great in them. She seemed like someone who had profoundly succeeded at femininity in a way I never quite have.
My taste in lipstick reminds me that I pretend to be far more gregarious and outgoing than I actually am; in reality I like staying home on Friday nights, and being invisible walking down the street. If the rest of the makeup I buy is an outfit, lipstick is a costume. Its utility is in fantasy, providing an escape, if only an imaginary one.
If you buy something through our links, New York may earn an affiliate commission.