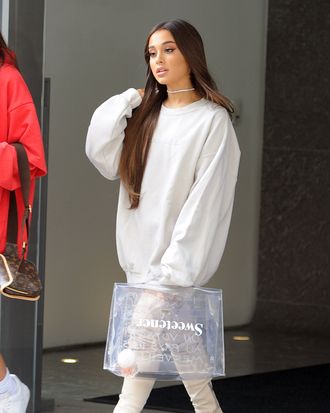 Ariana Grande.
Photo: Josiah Kamau/BuzzFoto via Getty Images
BBC will air an hour-long special featuring Ariana Grande, where she will perform her album Sweetener with an orchestra. The special was taped on September 7, Later that same day, it was announced that her close friend and former boyfriend Mac Miller died, and in early October, she and her fiancé Pete Davidson separated.
Because of when it was taped, the interview doesn't discuss those topics, but it does include a look into her life. She talked with McCall about her pets, her texting relationship with Madonna, and her struggles with anxiety.
"I have seven dogs," she told McCall, adding that she prefers dogs to people. Ariana also has Piggy Smallz, her beloved emotional-support pig. Her New York City apartment must be a pet paradise. She also shared more about her battle with anxiety, and about the work it takes to ensure that you are taking care of yourself.
"It's such an unpredictable thing. It takes hard work and practice and therapy and self-care. And so much love," she added. "It's just in your head and it's just so crazy how powerful it is."
While making "God Is a Woman" Grande explained that she wanted to include Madonna, whom she credits as an inspiration for women's empowerment. "I texted her, which so cool. I can text Madonna!" Ariana explained. "Within a couple of minutes she replied. She was like, 'Send me everything!"
The full interview as well as her orchestral performance will air on BBC on November 1 at 8:00 p.m.