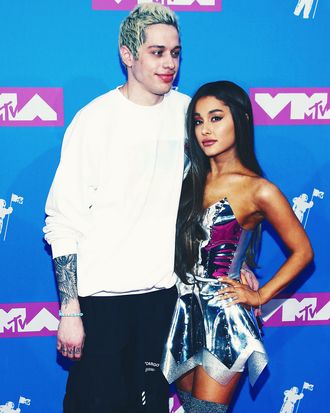 The way they were.
Photo: Paul Zimmerman/WireImage/Getty Images
It's a painful time for us all: Almost as quickly as they got engaged, celebrity couple of five months Ariana Grande and Pete Davidson broke up. While they already sorted out the most important aspects of their split (she returned the $93,000 engagement ring but is keeping their shared pet pig), many of us were left wondering what was going on with the details of that wedding they were purportedly planning. Well, it turns out they really didn't plan much at all.
The former couple (love is dead! RIP love! We'll miss you!) kicked off The Summer of Celebrity Engagements in May, after they got engaged mere weeks after officially starting to date. After the singer and "big dick energy" SNL comedian's impending union was announced, a trove of other celebrity pairs followed with quickie engagements, including Justin Bieber and Hailey Baldwin, and Priyanka Chopra and Nick Jonas. But by early October, they decided to end their engagement.
Fortunately, TMZ revealed on Monday that it doesn't sound like Pete or Ariana needed to inform any wedding caterers of their split, as they had not locked down a venue, bought a dress, or even picked a date. On top of that, "Page Six" reports that the pair had only really entered into "preliminary discussions" about a wedding (how romantic).
On Saturday night, Davidson opened up about the split for the first time in a comedy set. He addressed the fact that he needed to move out of the apartment he shared with Ariana — "Anybody have any open rooms?" Pete asked. "I'm looking for a roommate." — and acknowledged that getting multiple tattoos with his now-ex was "stupid." But at least tattoos can be covered up.