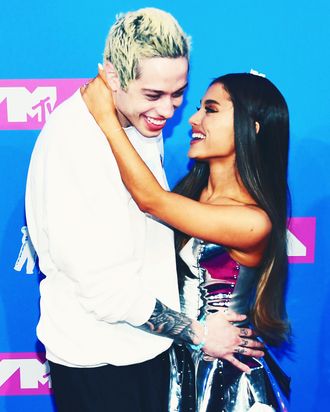 Pete Davidson and Ariana Grande.
Photo: Nicholas Hunt/Getty Images for MTV
Ariana Grande and Pete Davidson's loved ones are apparently "relieved" that the couple has called off their engagement after five (very intense) months.
Not even two weeks have passed since Davidson, 24, and Grande, 25, shocked their fans when reports emerged that they were calling off their engagement. The couple only dated for a month before announcing their intention to marry, but their matching tattoos, shared pet pig, and constant public make outs made it seem as if maybe, this young couple's love could endure — a sentiment that wasn't shared by those who are actually close with Davidson and Grande.
"[Her loved ones] always thought the engagement to Pete happened way too quickly," an insider told People. "They didn't want her to get married to Pete … It was all way too soon."
Per the source, Grande's family wants her to "focus on work and not stress about other stuff," as she has had "several stressful situations in the past couple of years. (In May 2017, there was a suicide bombing attack during her concert at Manchester Arena, and on September 7, her longtime ex Mac Miller died by drug overdose, which Grande is still mourning.)
This just "wasn't the right relationship or the right time to get married," the source added. Another source said, "Everyone on both sides are relieved it's over."
While both Grande and Davidson may not be at the post-breakup stage where they can see their friends' and families' sides, sources close to both have revealed that given the circumstances, they are doing fine.
This article has been updated.