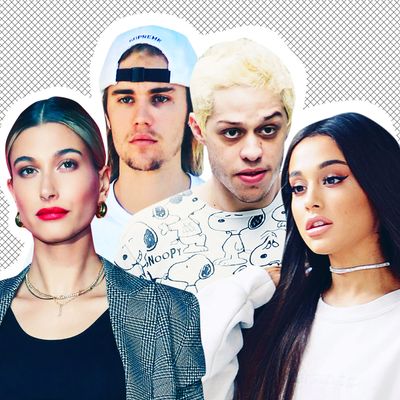 When SNL comedian Pete Davidson proposed to pop star Ariana Grande in June, the couple kicked off a beautiful, thrilling summer of whirlwind celebrity engagements. Justin Bieber proposed to Hailey Baldwin, Nick Jonas proposed to Priyanka Chopra, and sources close to Leo DiCaprio's 21-year-old girlfriend Cami Morrone told Us Weekly that he was thinking about proposing to her. But the fun didn't last. This morning, I woke up to find that Grande has returned her $93,000 engagement ring to Davidson, and also I had to put a little coat on my dog because it's 40 degrees outside. Summer is officially over, and so is love.
So what happened with Grande and Davidson? TMZ was the first to report on Sunday that the engagement was off. Grande and Davidson must have made the decision quickly, because they were together backstage at SNL this weekend. Grande was supposed to be in L.A. on Saturday to perform at the Fuck Cancer Gala, hosted by her manager Scooter Braun's wife Yael Braun, but instead she stayed behind to be with Davidson in New York. Several tabloids have reported that the couple could reconcile, but as of now, they seem to be moving pretty quickly through the breakup: Grande returned the engagement ring and has been staying away from the couple's $16 million Manhattan apartment (that she bought). Also, she's keeping the pig.
According to TMZ, the death of Grande's ex-boyfriend Mac Miller last month was a "breaking point" in her relationship with Davidson. "In the aftermath of Mac's death, our sources say Ariana realized a couple of things — she couldn't be fully invested in her relationship with Pete, and she had rushed into a looming marriage way too fast by getting engaged," the site reported yesterday. So far, Davidson's camp hasn't said much about the breakup. A source told ET that "Ariana made the final decision" to split.
Unfortunately, things are not looking much better for Bieber and Baldwin, who got engaged in July and secretly married at a New York courthouse last month. Bieber has been photographed looking very, hmm, emotional in the last week, and the tabloids agree it's because his ex-girlfriend and one true love Selena Gomez hasn't been doing well. (She is currently in an east coast psychiatric facility after suffering an "emotional breakdown" stemming from complications from lupus.) A Bieber source told People yesterday that "he is not over Selena" and that "he feels like she is part of his life and he wants her to be happy and healthy." An Us Weekly source painted a more dire picture: "Justin has become a recluse and a changed person. He has no interest in being a celebrity and an artist. He has withdrawn again, much like he did a couple years ago."
In the wake of all this chaos, it seems like Bieber has returned to his longtime mentor and "second father," Hillsong pastor Carl Lentz. Bieber and Lentz reportedly had a falling out earlier this year, sometime after Bieber and Gomez broke up for the umpteenth time. (Lentz was offering them Christian couples counseling.) When Bieber proposed to Baldwin in July, Lentz declined to congratulate him, and the two stopped getting photographed together. But last Thursday, Bieber and Baldwin were spotted visiting Lentz's Beverly Hills mansion. (A pastor with a Beverly Hills mansion!)
It's not clear what they talked about inside, but Bieber was photographed crying in the car on the way home. So … I don't know. I think something serious happened between Bieber and Lentz earlier this year, and that it involved Gomez. Perhaps now, in Gomez's time of need, they are reconciling everything? Bieber can't get out of his marriage to Baldwin so easily, though: The two declined to sign a prenup.
And so the two most exciting engagements of the summer have ended in returned rings and paparazzi tears. Today, I put all my hopes on a Christmas-time proposal for Chris Pratt and Katherine Schwarzenegger.
One small blessing from this week:
"Mary-Kate Olsen can smoke wherever she wants to."
And here's an interesting blind item this week, related to some of the names I mentioned earlier, care of Enty at Crazy Days and Nights:
"That foreign Scientology offshoot that has taken hold in the U.S. because of a bunch of shiny young celebs is about to take a very big hit to its reputation."
Finally, I'll leave you with this video of Meghan Markle and Prince Harry accepting their first baby-gift yesterday during a tour of Sydney. Meghan Markle is pregnant!!!
Thanks so much for gossipping this week. Don't forget to email me at allie.jones@nymag.com, send me a message on Twitter, or contact me on Signal if you'd like to chat.