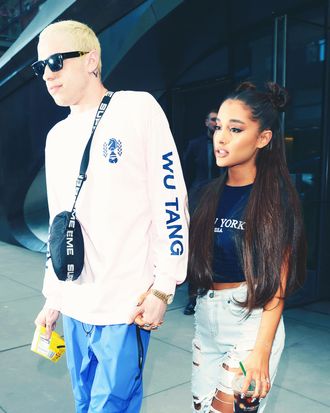 Photo: Raymond Hall/GC Images
Like many young couples, Pete Davidson and Ariana Grande were simply not ready for lifelong commitment. Over the weekend, TMZ reported that they broke up and called off their engagement. But unlike most young couples, Davidson — after a mere month of dating Grande — had given her an engagement ring that costs $93,000. And now, she's reportedly returning it — though she's keeping their pet pig, Piggy Smalls.
The custom-made ring features a 3.03 carat diamond and is set in platinum. According to TMZ, Grande was "quick to fork it over."
But she'll undoubtedly be keeping Piggy Smalls, the teacup pig the couple adopted last month, and also the star of Davidson's newest tattoo. Ariana bought the pig, so the custody was supposedly unambiguous. It looks like Pete may be heading back to the tattoo parlor for some cover-ups, but by now, he should be used to it.