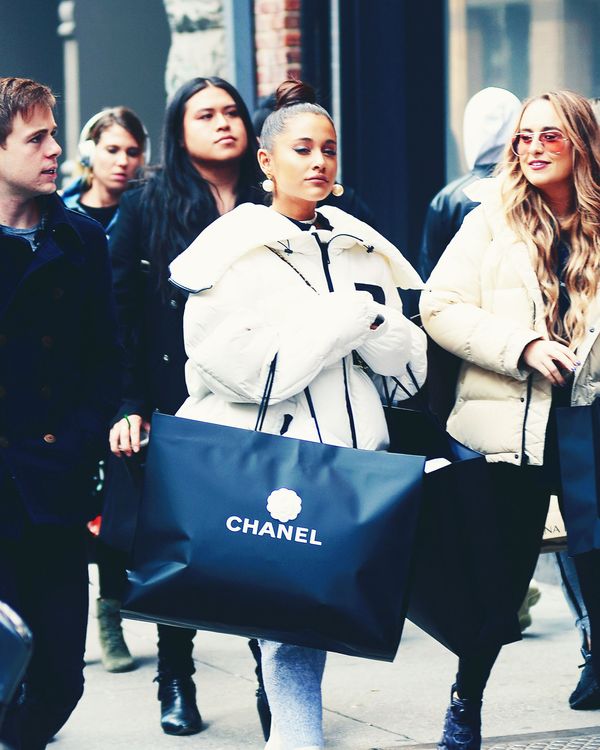 Ariana Grande.
Photo: Elder Ordonez / SplashNews.com
In one of Ariana Grande's first public outings since her breakup with Pete Davidson, the singer was spotted doing a little retail therapy … at the Chanel store in Soho on Sunday afternoon. In addition to her signature ponytail, she wore a large white puffer coat with matching white boots, plus white pearl earrings the size of cherry tomatoes. (Alas, no engagement ring.) A team of people surrounded Grande as she marched down the sidewalk, but instead of the usual Davidson on her arms, she toted not one but two shopping bags, both of which were half her size. Inspiring.
Meanwhile, Pete Davidson was out in Los Angeles doing stand-up comedy (something he initially declined to do post-breakup). During his set at Judd and Pete for America, a benefit show for Swing Left, Davidson acknowledged that getting multiple tattoos with his ex-fianceé was probably not the best idea. He also said he was looking for a new roommate. (We hear he's willing to stock the fridge.)
Breakups can be tough, even (especially?) when you're famous. And this seems to be the fall of high-profile splits after a summer of engagements. Nothing is an average activity for a newly single celebrity; everything is a "post-breakup" activity. We're all just trying to be "fine," though, whether that means quitting social media, dropping a ton of cash at Chanel on the brand's dark forest collection, or doing stand-up comedy. Or, if you're like the rest of us, living vicariously through Pete Davidson and Ariana Grande. Whatever works.