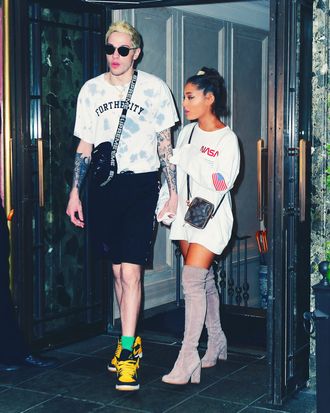 On September 6, 2018, Ariana Grande threw her ponytail across her hotel room, bidding it "til next time," leaving the world to anxiously wonder if the extensions would ever be seen again. The ponytail is still making public appearances so rest assured it's alive and well, but it seems Grande's hotel toss signaled the emergence of another hairstyle she would soon make her signature: Space buns.
While The Pony is integral to the public-facing, onstage Ariana Grande persona, it seems space buns are an integral part of off-duty Ariana Grande's. Thrice she has been spotted wearing two space buns about town with a variety of scrunchie combinations and an oversized sweatshirt. The first time was during a pizza outing in Brooklyn with fiancé Pete Davidson (no scrunchies). Next, while sipping Starbucks during a rainy, umbrella-free walk with friends following Mac Miller's passing (two scrunchies). And just yesterday at brunch with Davidson in her best off-duty combo yet: Space buns with a space-y NASA sweatshirt and one singular scrunchie on the right bun.
In a practical sense, it's nice to see that Grande is continually committed to taking care of her hair, a well-known victim of the gruesome TV series bleaching murders. Space buns are a great protective style and an easier alternative to a really long ponytail extension. In a deeper sense, it's even nicer to see she's found a way to unplug from her star role from time to time, especially one that suits her style and doesn't involve a jarring Hannah Montana wig situation.