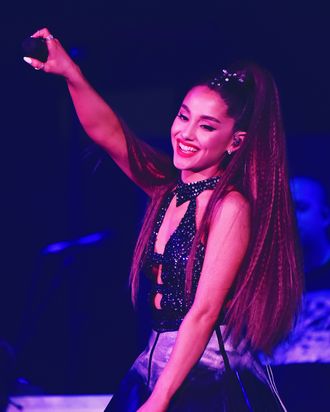 Ariana Grande.
Photo: Kevin Mazur/Getty Images for iHeartMedia
Following her shocking breakup with comedian Pete Davidson nearly two weeks ago, Ariana Grande announced that she was temporarily quitting social media in an attempt to heal during this "very sad" time. While she has, for the most part, stuck to her pledge, she returned to Twitter on Wednesday to politely answer some of her followers' questions — and make fun of others.
In the most notable exchange of the day, one Twitter user, referencing Grande's pet pig and newest studio album, asked the singer, "whats piggy smallz top 3 from sweetener?"
Grande, in a beautifully succinct, hilarious tweet, shut down the question: "she is a pig."
This is not to say Piggy Smallz is not supportive. Indeed, in an earlier tweet, Grande referred to the pig as the love of her life.