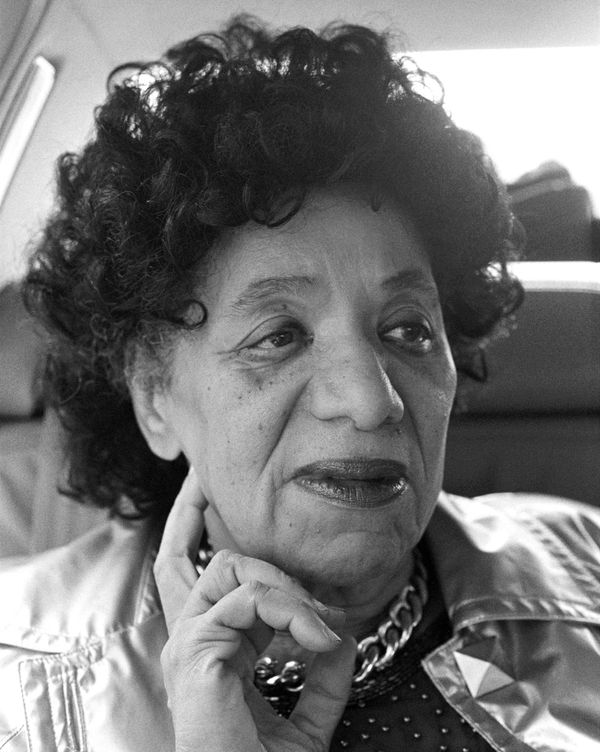 Dorothy Donegan photographed in New York in 1991.
Photo: Arthur Elgort
To watch late pianist Dorothy Donegan perform is to question the evolutionary purpose of fingers — that maybe, rather than to hold things and type long-winded emails on a laptop, their teleological function is to manically dance across a piano, tapping and slamming and maneuvering through the peaks and valleys of its ivory keys. Born and raised in Chicago, Donegan was a protégé of piano legend Art Tatum, who told Ebony she was "the only woman who can make me practice."
It was only a matter of time before she came across another legend, Arthur Elgort, the 78-year-old photographer who fancied jazz and its performers. Elgort, who recently released a photography book featuring Donegan, is also the very proud father of actor and budding musician Ansel Elgort. The book, simply named Jazz, showcases intimate portraits of Donegan, alongside those of heavyweights like Thelonious Monk, Dizzy Gillespie, and Art Blakey. But Donegan — with her strong personality and standout talent — always had a special place in the heart and lens of Elgort, he speaks to the Cut about one photograph, taken of Dorothy in Los Angeles in 1991, and the lasting legacy of a woman who knew her worth.
Dorothy Donegan was a terrific pianist, and she studied with Art Tatum, who was the best pianist around. She was brought up by him, musically speaking. I met her in '90 on the boat called the S.S. Norway. They used to have a jazz festival every year — Hank O'Neal was in charge. I heard her play and I couldn't believe it myself. I was thinking, this is like Art Tatum born again. She was the best pianist I knew, because Art Tatum was dead.
Dorothy Donegan went out there and beat everybody playing. Everybody felt bad because she was better than the white guys — or the black guys, for that matter. She would play better, and everybody admitted it. I enjoyed her a lot. I would say she was the best pianist that I recognized.
She dressed well. She only wore Chanel — she just wore Chanel shoes, and the rest of it was phony. She went to Canal Street to buy the rest of it. She was a great player and funny as hell. You had to laugh all the time.
Most people don't know who Dorothy is. I don't know why. I had her here in the studio a lot, and she performed for me a lot. I enjoyed it immensely. The [above] photo is from L.A., taken in a soul-food restaurant. She was a friend of the owner. He made soul food famous in L.A. If you wanted a good chicken, you'd go there. I forget what it's called.
She was a trouble-maker, and she liked to swim a lot. A famous story of her — she went to Las Vegas to do a show there around that time of that photograph. She wanted to swim, but they found out she was black. Somebody came up to her and said, "you're not allowed to swim here because you're black. So get out of here." So, she peed in the pool before she left. She had to do something to show that she was Dorothy Donegan, and she couldn't care less about what you think of the color of her skin. There are a lot of people who don't like black people, for some reason. But she said, I peed in the pool — that's what I did to them. She felt good about it. And then she got out of the pool, and she went to her room. Las Vegas is a place where you could do anything you want, but you couldn't pee in the pool.
I thought it was a very funny story. We got along very well. She was an easy photograph. One time, we took her to Chanel on 57th Street and bought her a beautiful pair of Chanel heels. She was dressed up in all Canal Street. When she came in there, they all said, but that's not real Chanel. She said, "It is. The shoes are, and that's all that counts. I like shoes more than anything else." That was her favorite hobby.
You couldn't miss with her, when taking a photograph. She was very supple, it didn't matter what she was doing. She would always come out good. You know those people that always come out good and you wonder why … and some people just don't come out good? They get nervous. She was never nervous.
Elgort will be signing copies of Jazz at Bookmarc in the West Village on October 18 at 6 p.m.