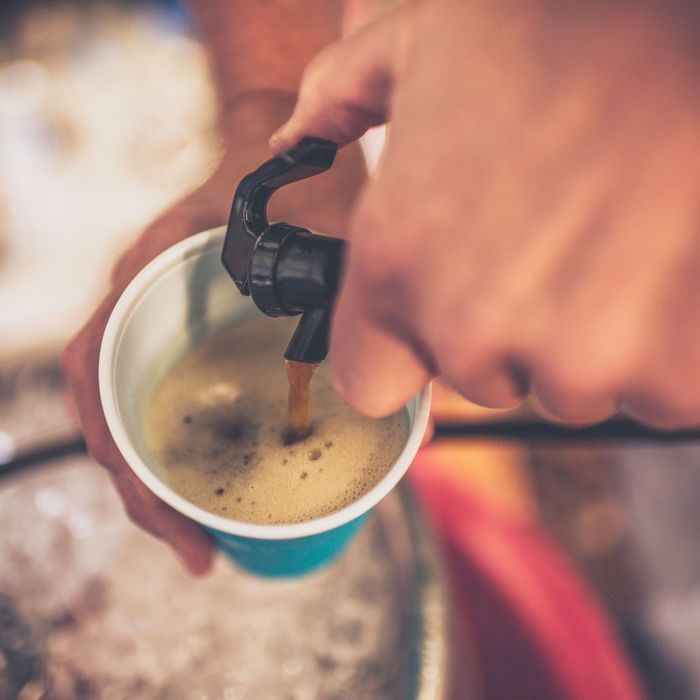 Photo: Catherine Lane/Getty Images/iStockphoto
On Tuesday night, the New York Times released a note that Supreme Court nominee Brett Kavanaugh had written to his high-school friends in 1983, in which he called himself an "obnoxious drunk" and spoke of the "prolific pukers" in his clique. The note's purpose? To help the group plan out "Beach Week."
This is not the first time that "Beach Week" has come up in conjunction with Kavanaugh; the event appeared on the 1982 calendar he released to the public as part of his bid to exonerate himself from allegations that he sexually assaulted Christine Blasey Ford at a Maryland house party that summer. Shortly after the high school–era document was made public, attorney Michael Avenatti released a signed declaration from his client Julie Swetnick, alleging Kavanaugh was present during her 1982 gang-rape at a house party — and that she had witnessed him "engage in abusive and physically aggressive behavior toward girls" at none other than "Beach Week" in Ocean City, Maryland. (The affidavit had been signed the day before the calendar was released.)
Kavanaugh — who has now been publicly accused of three separate instances of sexual misconduct, all of which allegedly transpired around heavy drinking — has gone out of his way to depict himself as an unusually wholesome youth, virginal and pious and studious. He told the Senate Judiciary Committee last week — repeatedly — that he liked beer but never drank to the point of blacking out; he said he was too busy working out with "Tobin" to party heavily that summer.
Classmates have disputed this, and it's arguable that his ostensibly exculpating calendar doesn't do him any favors, either, especially in light of the letter published by the Times. While it is true that Kavanaugh had not written down any listing for "drunken misconduct" or "sexual assault," his summer schedule did show various parties, hang-outs with Mark Judge, who was allegedly in the room goading him on as he assaulted Ford, and, of course, several days in early June designated in bold, all-caps letters as "BEACH WEEK."
To people who grew up in the DMV — the area that encompasses the parts of D.C., Maryland, and Virginia that are accessible by the metro — "Beach Week" is a notorious annual tradition for high schoolers in the region. Last week, after Kavanaugh's calendar was first published, many took to social media to share their own understanding of the event. One person noted that D.C. parents are all too familiar with the horrors associated with it; others wrote of their own wild times at "Beach Week." Clara Jeffery, editor-in-chief of Mother Jones, tweeted a Slate article about prep school party culture in the '80s, and followed up with, "Having also gone to 'beach week' parties, I agree that I now am baffled at how teenagers rented houses 2+ hrs from home for a week of debauchery. Who/how was this paid for and did parents sign these rental agreements?"
A native of the D.C. area, Jeffery attended "Beach Week" in 1985 — three years after Kavanaugh — and had regarded it as a senior-year tradition. "It was sort of an institution to drive out to the beaches on the eastern shores of Maryland and Delaware," she told the Cut. She recalls singeing her bangs as she tried to light cigarettes on the stove with her friends.
The informal institution of "Beach Week" has remained essentially intact since Jeffery and Kavanaugh's time; it's regarded as a tradition — mostly for seniors, although sometimes underclassmen join, as well — that goes down the first week of summer after classes end. Groups of largely unsupervised kids rent out houses and condos at the beaches on the eastern shores of Maryland and Delaware — mostly Ocean City, Bethany, or Rehoboth — and settle in for a week (or for some people, just a day or two) of heavy drinking.
A person who attended Beach Week during the late '90s explained that there was actually a bit of a tradition that most teens underwent during their experience. "You spent all year begging your parents to let you go, your first true unchaperoned, co-ed experience before college," she said. "You rented a house at the beach on the eastern seaboard with all your friends — male and female. You brought a ton of alcohol (and pot, depending on your peer group). You partied — most of the day, all of the night, into the morning. My recollections of it — the non-hazy ones — are of people binge-drinking, barfing, and engaging in tangled trysts. And we weren't even the cool kids."
This isn't to say that Beach Week is necessarily any more or less debauched than the stereotypical teen spring break experiences in Daytona Beach or Myrtle Beach; it's more that this particular trip, to these particular beaches, and at this particular time each year, is a tradition distinct to kids who grew up in the D.C. region. An Ocean City tourism website has a dedicated page designed to help plan Beach Week (otherwise known as "Senior Week") trips; police and towns have issued warnings about the "uncontrolled environment" of institution; and it's even been studied by a medical journal.
In 2013, a mini political scandal of sorts went down during Beach Week, after former Maryland attorney general Doug Gansler was photographed at a party in which a bunch of half-dressed teens were dancing on tables and drinking out of red plastic cups. Gansler said he stopped by the Beach Week bash in Delaware to briefly talk to his teenage son — and that it wasn't his responsibility to break up the party, since he didn't know whether the kids were drinking or not. "Assume for purposes of discussion that there was widespread drinking at this party," Gansler said, per the Baltimore Sun. "How is that relevant to me? … The question is, do I have any moral authority over other people's children at beach week in another state? I say no." (He later said he made a "mistake" by not investigating whether the teens were drinking alcohol.)
Jeffery said that while she "didn't see the behavior that has been referenced in any of these complaints and allegations" during her Beach Week, "it wouldn't totally be shocking that there would be the worst behavior that any group would tolerate coming out that week, because it was a bunch of unsupervised teenagers drinking a lot." Likewise, Emma Gray, senior women's reporter at HuffPost, told the Cut that her Beach Week experience in 2005 was fairly benign. "It was mostly just partying," Gray said. "Because there were so many groups, especially groups of predominantly dudes who were there from other schools, there was certainly an air of, yeah, you come, you drink, you hook up with people."
Though Gray had a fine experience at Beach Week, she's struck now by how different the situation could have been had she and her friends been with a different group of guys. "We were the lucky ones because the young men we interacted with in those situations tended to be respectful," she said. "That feels more like luck and circumstance than anything else. That's what's so disturbing to me looking back."
Another D.C. native, who went to Beach Week in the mid-'90s, told the Cut that she's now rethinking some of the things she witnessed during her senior trip. "I have been on texts this past week with friends who are like, 'I'm totally reevaluating the thing that happened to X girl,'" she said, recalling a girl she heard had hooked up with someone on the bathroom floor of a party when drunk. She now wonders, What really happened? Same goes for Gray, who said she's also reflecting on some of the stories of "crazy hook-ups" that she heard. "I don't remember hearing stories of assault or coercion but … I'm sure things happened that maybe we didn't even have the language to really name at the time," Gray told the Cut.
But as for Kavanaugh, the mid-'90s beachgoer said that there's no way he wasn't aware of the debauchery of Beach Week — or of the all the drinking at the prep school parties he frequented. "One thing about the Kavanaugh interview that rang so false for me: It was impossible to have grown up in that environment and to not know that some of that shit had happened. Actually impossible," she said. "I have a memory of a girl walking in from a party in Montgomery County and her back and hair was covered in leaves and dirt. She was with an upperclassman, and she didn't look happy. That stuff happened a lot."