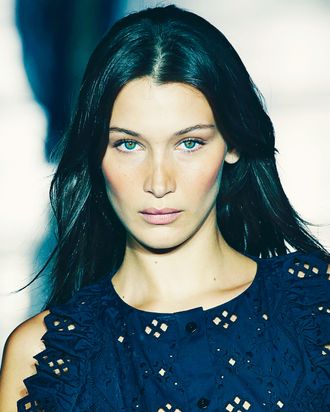 Bella Hadid.
Photo: Victor VIRGILE/Gamma-Rapho via Getty Images
Yesterday evening in Los Angeles, California, model Bella Hadid welcomed a healthy new set of bangs. They're brown, slightly tapered, a little wispy, possibly clip-in, and frame her eyes quite nicely. The bangs made their first public appearance at the launch event for the Bella Hadid x True Religion collection surrounded by a bunch of denim, a bunch of other models, and a layered haircut that's tiptoe-ing dangerously close to "The Rachel" territory.
The birth of new bangs can elicit a variety of reactions, ranging from admiration to concern, but just to be clear, this isn't the first time Hadid has had bangs. In fact, she's actually had them a lot: once in Rome (baby bangs), once at Cannes (swoopy bangs), once at Kate Upton's birthday party (blunt bangs), and once at the CFDA awards (longer blunt bangs). However, this is the first time she's had this particular style of bangs while simultaneously dating her boyfriend, the Weeknd.
It's an inconsequential detail, one would think. That is until you realize, as OK! Magazine pointed out in a photo caption accompanying Hadid, that this whole "bangs" thing seems eerily familiar. Selena Gomez, who also has hair and also dated the Weeknd, also had bangs while dating the Weekend. Coincidence?! Probably; Gomez's bangs were way wispier and swoopier during that time.
Anyway, Bella's new bangs look very late-'90s and I can't wait for them to meet her trusty claw clip. Mazel!