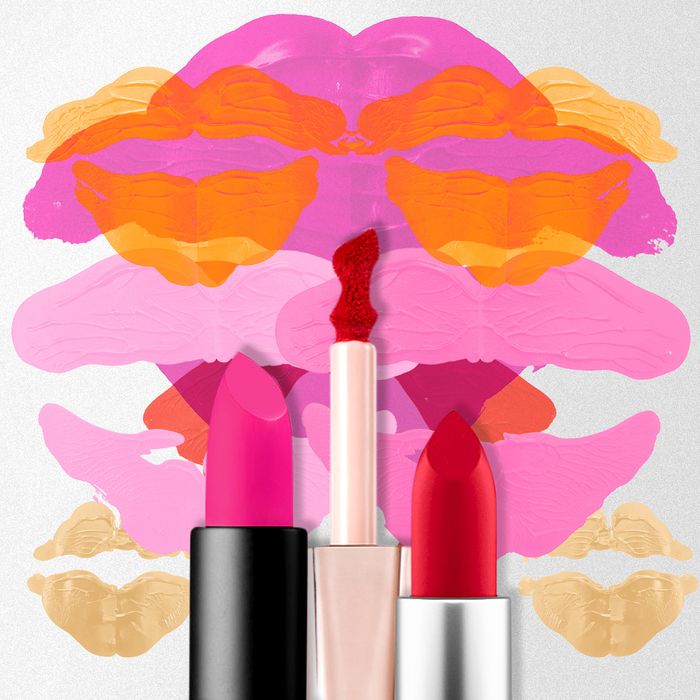 Photo: Photo Illustration by Stevie Remsberg/Photos Courtesy of the Retailer
There are few feelings in the world better than opening up a fresh tube of lipstick. It's full of pigment, promise, and unspoken communication. It can be messy, be a way of resisting a sunny city, and even save you from doomsday preppers. Despite its long-reaching abilities, it's not necessary to dole out major money to make a big impact.
Thanks to modern innovation, there are plenty of brands making affordable, high-quality lipsticks which aren't uncomfortable to wear. Whether you're a compulsive lipstick buyer, want to treat yourself without having to reallocate your budget, or just want to stay under a certain price limit for a gift exchange, these are the best lipsticks under $30.
NARS offers a heavy-hitting, budget-friendly, makeup-artist approved line of lipsticks. Schiap is an incredibly popular bright pink with blue undertones, named after designer Elsa Schiaparelli. Or, you can go retro with Jungle Red, described as the perfect "Old Hollywood" shade of red.
Okay yes, this is called "Almost Lipstick." Semantics aside, it's great. It's been around for a long time and has received consistently positive reviews ("Black honey is perfect — why mess with that?") lt supposedly looks great on everyone and has a great "barely there," Chapstick-like texture and color. And at less than $20, it's almost too good to be true.
Photo: Courtesy of the Vendor
Fenty's Stunna Lip Paint in "Uncensored" is potentially the biggest competitor to M.A.C's Ruby Woo. Universally flattering? Check. Long lasting? Duh. Easy to apply? Thanks to the wand, it's easier than applying traditional lipstick from a tube. Plus, Rihanna recently released four more shades of STUNNA, so in addition to a fiery universal red, you have three different nudes plus a jet black to add to your makeup bag. The best part? They're $24.
These L'Oréal lipsticks boast an incredible variety of colors, a nourishing blend of Vitamin E and Argan Oil, and some pretty cool designer collaborations. They are some of the highest-quality lipsticks available at drugstore prices, and even the exclusive Isabel Marant shades are only $12.
Photo: VERIFY IMAGE USAGE RIGHT PRIOR TO USE;
Kate Moss and Rimmel London teamed up to create a line of lipstick shades — and 01 is billed as the perfect red, worn by Moss in the ads. It's one of the best drugstore lipsticks of all time with its intense color payoff and hydration. Amazon reviewers agree — there are over 600 great reviews.
Revlon is definitely a lipstick O.G. Celebrity makeup artist Beau Nelson explains the appeal of two of the most popular shades: "Cherries in the Snow is a pink-based red that has literally been around for decades and is a timeless classic. Fire and Ice was maybe the first Hollywood-red lipstick (and matching nail color). The ads asked readers questions and warned that you were only bold enough to wear the shade if you answered at least eight of them with 'Yes.'"
If you buy something through our links, New York may earn an affiliate commission.