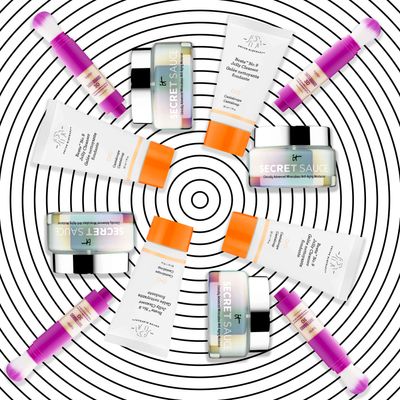 Photo: Courtesy of the Retailer
It's a fantasy gift for any skin care lover: Convince five of New York's best and busiest dermatologists to tell you exactly what to buy at Sephora. For our new installment of "What Should I Get," The Cut made it happen. We convinced several practitioners who treat Very Famous Faces to pick what they consider to be the best skin care and makeup products all while sticking to a $100 limit.
Here are their selections — read on for the two skin care brands that they recommended over and over again, plus the sunscreen that actually helps your makeup look better.
Dr. Paul Jarrod Frank, Founder and Director of the PFrankMD brand
Drunk Elephant is a brand that I have heard the most positive feedback about, regarding its "natural" ingredients and efficacy. It's one I continue to recommend and is worth the investment. This set is a great way to test out the line — it's travel-friendly, and targets the most common concerns, which are discoloration and brightening. It is also good for all skin types.
There is a cleanser, day and night serums, moisturizer, face oil, and SPF. These products can all be mixed and matched for a day-to-night routine. The best part is that there is enough variety, so you can test out what works best for your skin.
Dr. Dendy Engelman
My main focus as a dermatologist is to prevent sun damage that could turn into cancer or another fatal disease. A powdered sunscreen works for most skin types, as it can absorb excess oil and be easily reapplied throughout the day over makeup.
Think of moisturizer as a shield. You use serums to penetrate actives deep into the skin. You use moisturizers to lock in active ingredients and keep harmful aggressors out. Even if skin does not seem dry, it still needs that layer of protection.
This product is free of many ingredients, such as fragrances, alcohol, phthalates, sulfates, and parabens, which can irritate sensitive skin. But it also contains great ingredients which soothe skin, like oatmeal, shea butter, and antioxidants. Use it day and night.
I can't avoid those makeup aisles! I love Tom Ford lipstick, and Indian Rose is my favorite, neutral-ish shade. It is a creamy texture and lasts all day long.
Dr. Joshua Zeichner, Director of Cosmetic and Clinical Research, Department of Dermatology at Mount Sinai Hospital
Vitamin C is a staple ingredient in skincare. Think of it as an insurance policy on your sunscreen. You also need it for the production of healthy collagen, which keeps the skin foundation strong and fights off fine lines.  Apply every morning under your SPF. This product has a stable, high quality Vitamin C formula that every skin type can use.
You need to get in the habit of applying your sunscreen daily, much like brushing your teeth. This sunscreen offers broad spectrum protection against both UVA and UVB light with an SPF 50 protection. The formula is light, absorbs easily, and doesn't leave the skin feeling heavy or greasy. Even low levels of UV light exposure add up over a lifetime.
Dr. Patricia Wexler
This is a fragrance-free, gentle cleanser that effectively removes makeup, dirt and grime, and leaves my skin soft. It whips into a lovely cream when mixed with water (something I really like in a product) and is good for sensitive skin. I like that it has aloe in it, too, which is especially soothing to dry skin.
This gives an unusual amount of moisture, plumping, and luminosity in one product. It's no surprise that it has a cult following. It contains a fermented "complex" that increases the penetration of the ingredients, while visibly plumping the look of lines, and wrinkles. It also has light reflective technology to impart a bit of shine, as well as antioxidants and peptides to build collagen and elastin into the skin. Oh, and yes — it moisturizes too.
Dr. Shereene Idriss
What most people overlook with SPF is that after a few hours, it needs to be re-applied. This loose, mineral-based sunscreen is very portable, plus it brushes easily over makeup without messing it up. Not only does it protect my skin from harmful sun rays, it keeps my makeup melt-proof and looking fresh with each reapplication.
I'm usually not a fan of scrubs, as they can be abrasive and irritating. They can worsen breakouts and cause potential scarring. But you do want a product that can smooth away the dead skin cells that can make it look dull. This particular mask/scrub is gentle, if you want that "freshly scrubbed" feeling without rubbing your skin raw. It combines very fine raw sugar and pomegranate seed powder.
If you buy something through our links, New York may earn an affiliate commission.