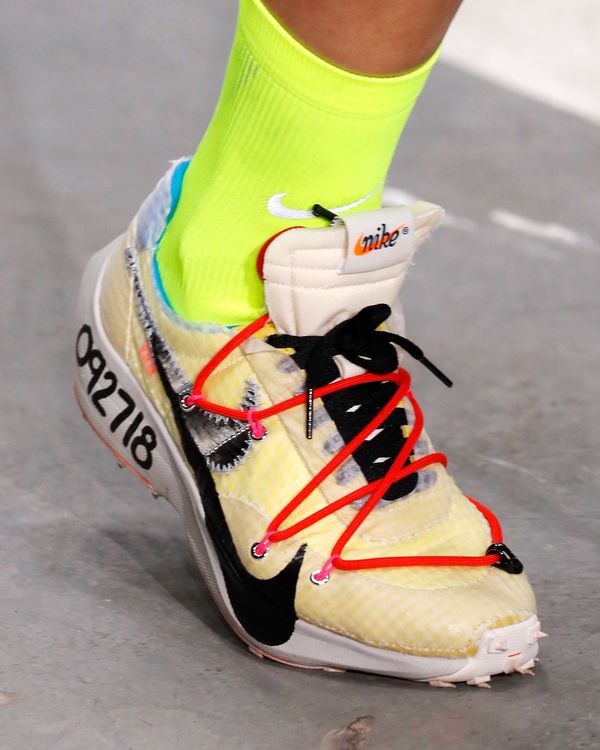 Off-White x Nike spring 2019.
Photo: Richard Bord/Getty Images
Fashion month isn't just about clothes and luxury accessories — or at least, it isn't anymore. Designers now see sneakers as just as valuable and exciting as heels, and we are fully hyped for next spring's footwear. Below are our favorite designer styles from the spring 2019 runways, from Comme des Garçons to Off-White by Virgil Abloh.
Comme des Garçons x Nike
Last season, Comme des Garçons designer Rei Kawakubo collaborated with Nike on a pair of high-heeled sneakers. We're happy to see that this season, she's turned to the classic "Shox" style instead. I would say that you could jump higher and further in these, but they are embellished with chains.
J.W. Anderson x Converse
Jonathan Anderson's collaboration with Converse has been a big hit so far. (I tried to buy myself a pair of the glittery ones last season, but they sold out within seconds.) The glitter shoes are back (and in neon!) but these new platform styles feel like a whole new chapter.
Versace
When sneaker designer Salehe Bembury was hired by Versace last fall, it marked a new era for the brand, which has made a significant effort to engage with the next generation of consumers. Bembury's first shoe, the "Chain Reaction," is impossible to miss. And his sandal version is just as on-trend.
Marine Serre
Jonathan Anderson isn't the only designer on Converse's payroll. The brand was smart to invest early in Marine Serre, a new name who is well on her way to becoming the future star of Paris Fashion Week. With knee-high sock-sneakers, her "Futurewear" collection certainly lives up to the name. In addition to Converse, she also collaborated with Nike on a pair Air Max Plus sneakers for spring, and with Melissa on rubber slides. She also has her own style called the Moonwear Futureheel.
Off-White x Nike
It's hard to focus on much else when Virgil Abloh's Nike sneakers walk the runway. And this season, he designed neon ones. These spiked track shoes (which were modeled by actual track and field stars) are sure to be impossible to snag next spring.
Bonus: Rick Owens x Birkenstock
Okay, they're not sneakers, but we couldn't help but show some love for Rick Owens's Birkenstock collaboration. This style looks like it's made out of concrete, but we're sure it's deceptively lightweight.