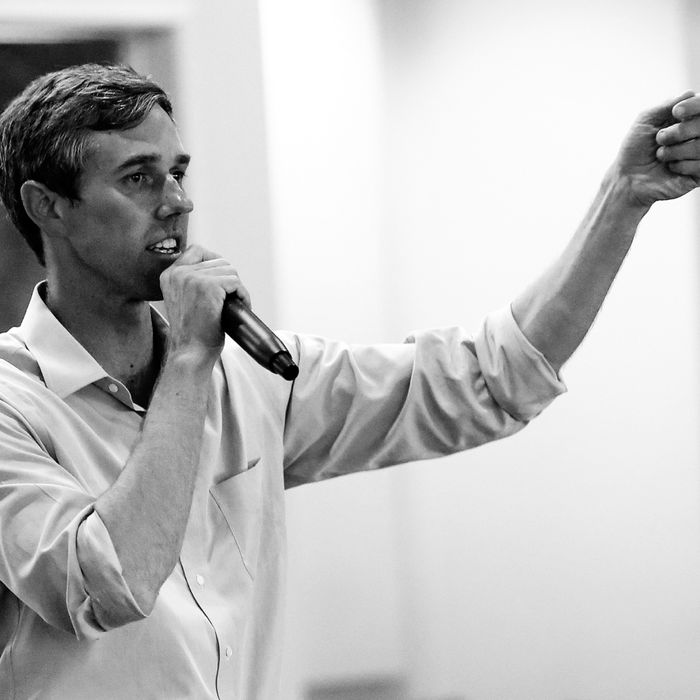 Beto O'Rourke.
Photo: Chris Covatta/Getty Images
Beto O'Rourke, sweaty man, U.S. Representative, and Democratic candidate for senator in Texas, has perfected the cool-guy persona. He holds bunnies, plays the air drums while waiting for his fast food, and was in a punk band. These traits wouldn't seem so spectacular if Senator Ted Cruz, a frustrated, impersonable Republican, was not his opponent.
His latest "chill dude" move was to enter a campaign event in Corpus Christi, Texas on a skateboard. Beto was introduced by Senator Joe Kennedy, and then he hopped on his board and rolled across the stage, waving hi and leaning into his skater stance.
Ted Cruz is currently polling an average of seven points over Beto. But the Democratic candidate doesn't seem too flustered by those numbers. He said in an interview following the Corpus Christi event that people who are registering to vote for the first time aren't being counted in the polls, and he expects a major surprise come voting day, November 6.
Cruz hasn't publicly reacted to Beto's skateboarding entrance, but that is probably for the better, considering that previous attempts to respond to Beto's campaigning haven't gone too well for the senator / suspected Zodiac Killer.