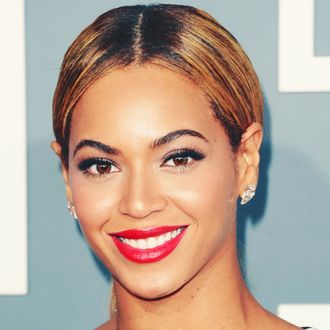 Beyoncé Knowles.
Photo: Jason Merritt/Getty Images
Beyoncé's 'fit pics are always works of art, but the photo she uploaded to her website on Tuesday of herself wearing a Rachel Comey dress was particularly notable.
Beyoncé controls every image of herself that's borne into the world. Why would she allow her image to be captured by paparazzi, street-style photographers, or even the photo teams of major magazines when she can just do it herself? And maybe even better? Every choice she makes is carefully considered, which is why her decision to wear an orange-and-yellow printed tank dress by the designer feels so monumental.
Comey has had a cult following for a long time, but it didn't used to include major pop stars. As Cathy Horyn wrote in her profile of the designer this summer, her aesthetic is often misconstrued as "Brooklyn" or "quirky," despite the fact that she is neither. Her products are artful and independent-minded, though, and as a result, her clientele has skewed towards more "offbeat creative types." Maybe it's finally time to dispel the idea that Rachel Comey is niche, though. Michelle Obama wears Rachel Comey. Maya Rudolph wears Rachel Comey. And the last time I visited the store, I saw Carly Rae Jepsen there.
"She looks so confident and gorgeous, it's inspiring!" Comey told the Cut in an emailed statement about Beyoncé. (In a truly cool move, the brand did not send out a press release regarding Beyoncé.) "I always love seeing our clothes on confident, independent, visionary people (famous or otherwise) and I'm honored that she is one of them."
It's true: Beyoncé looks great. She's simultaneously formal and casual in this particular dress — a state that Rachel Comey's clothes have the unique ability to foster, proving that even a stratospheric pop star can seem like a chill, arty lady in Comey's designs. But what really makes this look a win-win is how comfortable Beyoncé seems wearing it. Where is she going? A party? A dinner? The answer is wherever she wants.
Sadly, the dress itself, the "Prim Dress" from last spring, seems to be sold out. But we're so glad Beyoncé was the one to snag it.