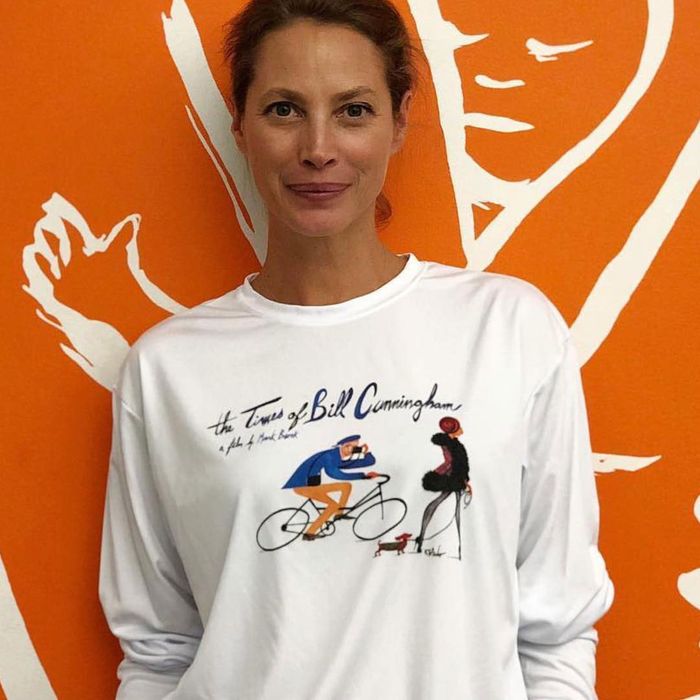 Christy Turlington wearing a T-shirt for the documentary,
The Times of Bill Cunningham
.
Photo: @cturlington/Instagram
Christy Turlington Burns, Iman, Cindy Crawford, and more supermodels showed their support for Bill Cunningham on Instagram last weekend, wearing a T-shirt to support both the The Times of Bill, a forthcoming documentary about the late fashion photographer's career, as well as benefit a charity that Cunningham supported.
For every shirt sold online (ranging from $49–$59), $1 will be donated to God's Love We Deliver, which provides meals for New York City residents who are unable to shop or cook for themselves. Pat and Anna Cleveland, Sarah Jessica Parker, and Donna Jordan are also part of the campaign.
The Times of Bill Cunningham will premiere October 11 at the New York Film Festival and is scheduled to hit theaters in the spring of next year.
Narrated by Sarah Jessica Parker and directed by Mark Bozek, the film features a never-before-seen interview that Cunningham gave to Bozek in 1994. In it, he detailed his experiences moonlighting as a hat designer in France (while enlisted in the army during the Korean War), his move to New York, and his friendship with Jacqueline Kennedy. The documentary also shows some of 3 million previously unpublished photos from Cunningham's archive, to which Bozek was given rare access.
"Not only did Cunningham photograph his beloved New York City for more than six decades but he safeguarded — and in fact slept on — his treasure trove of photographs and documents," Bozek said in a press release. "His previously unpublished archive will likely become one of New York City's most important." Check out the shirts here.