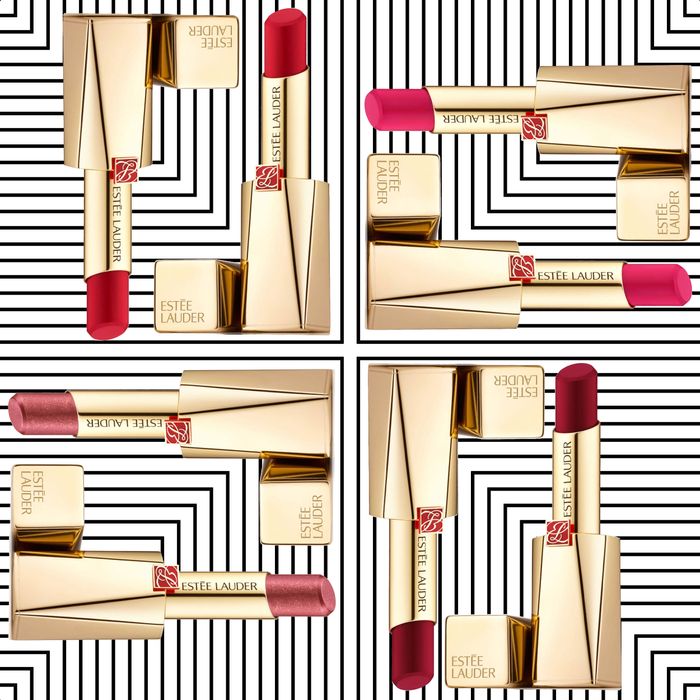 Clockwise, from top left: Rouge Excess, Distract, Misbehave, and Unspeakable.
Photo: Courtesy of Nordstrom
Do you want a bold lipstick that is pure statement? Are you looking for super-pigmented color? Do you desire something long-lasting? Perhaps in a delightful rouge shade that won't leave excess product on your teeth? With a nice crème finish? Did you figure out the secret code that led you straight to Estée Lauder's new Pure Color Desire Rouge Excess Crème lipstick? Congratulations! Your prize is learning more about these lipsticks.
This latest Estée Lauder lipstick seems to be a bit of an overachiever, all things considered. It mashes together a lot of qualities that you want in a lipstick, but it also seems a little too good to be true. Firstly, it's supposed to be really, really hydrating with a high dose of Advanced Moisture Complex. But it also purports to use something called Time Released Hyacolor, which ensures rich color in a single stroke. Potentially the grandest claim of them all is that this lipstick is supposed to "magnify lips' curves for panoramic volume." Plus, it supposedly has a fruity, floral fragrance. Is this perhaps the magical, perfect lipstick Ursula used in The Little Mermaid?
The lipstick shades are divided into two categories: crèmes and chromes. The crèmes are matte shades, like bright, petal-pink "Distract" and bold red ringleader "Rouge Excess." The chromes have a subtle metallic finish, like the seductive mauve "Unspeakable" or the glittery nude "Deny." They all come in sleek gold cases, and you can buy them now at Nordstrom and see if they really do live up to that gold standard.
If you buy something through our links, New York may earn an affiliate commission.