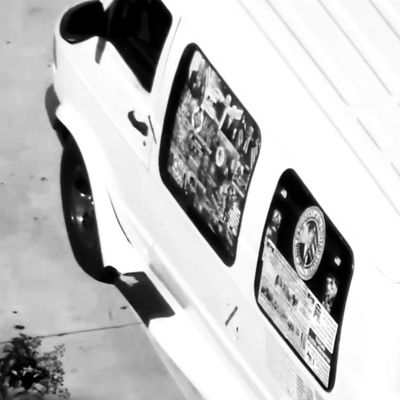 The van reportedly owned by suspect Caesar Sayoc Jr.
Photo: Uncredited/AP/REX/Shutterstock
On Friday, authorities announced that they had arrested a man in Plantation, Florida, in connection with the slew of bombs sent to prominent figures — including former secretary of State Hillary Clinton and former president Barack Obama — as well as to CNN's New York headquarters. NBC reports that the man in custody is Cesar Sayoc Jr., a 56-year-old Florida resident.
NBC News reports that DNA evidence played a role in the arrest of Sayoc, and that his white van, which had pictures of President Donald Trump and the presidential seal on its window, has been seized. According to the New York Times, Sayoc is a registered Republican with an extensive criminal history — including one instance where he was arrested and accused of threatening to use a bomb. He was reportedly born in New York.
A spokesperson for the Department of Justice tweeted on Friday morning that a suspect was in custody; on Friday afternoon, Attorney General Jeff Sessions said that Sayoc would be charged with five crimes, including illegally mailing explosives, the AP reports.
Here's what we know so far.
The suspect is Cesar Sayoc, a registered Republican with an extensive criminal history.
On Friday, Cesar Sayoc Jr. was arrested in connection with the mail bombs sent to prominent politicians and CNN. He is a 56-year-old resident of Aventura, Florida, and is a registered Republican. Sayoc also has an extensive criminal record that dates back to 1991.
He has been arrested in the past on drug and felony theft charges, as well as making a previous bomb threat, the Times reports. He was sentenced to one year of probation in 2004 over the bomb threat. He was last arrested in 2015. As has been the case with other terrorism suspects, a domestic-violence complaint was filed against Sayoc by a woman named Viola Altieri in 1994, though the Miami Herald reports that she later asked that the complaint be dismissed. Altieri appeared to be his grandmother, according to the Herald.
Per the Times, Sayoc filed for bankruptcy in 2012 in Miami. The Herald also notes that a two-bedroom home he owned in Fort Lauderdale went into foreclosure in 2009.
His social-media accounts reportedly posted pro-Trump news, anti-liberal memes, and conspiracy theories.
Following Sayoc's address, several social-media accounts appearing to belong to him have come to light. According to HuffPost, one Twitter account created in 2016 — under the handle @hardrock2016 — that appears to belong to him has over 1,000 images, with many relating to baseless conspiracy theories. For instance, the account includes a post claiming Parkland, Florida, shooting survivor David Hogg was paid by George Soros, while others touted theories about Democratic congresswomen Maxine Waters and Debbie Wasserman Schultz, both of whom were targeted by the pipe bombs. BuzzFeed News notes that a Facebook account appearing to belong to Sayoc include pictures of him at pro-Trump events, wearing a MAGA hat, posting MAGA memes, and otherwise showing his support for Trump.
A van believed to belong to the suspect was seized by authorities. It was covered in stickers, including ones with President Donald Trump's face.
CNN, MSNBC, and other networks shared live video on Friday morning of the white van allegedly owned by the suspect, which was later covered by a blue tarp by authorities. The van had pro-Donald Trump and other right-wing stickers on it. A complaint filed by federal prosecutors stated, "The windows of Sayoc's van were covered with images including images critical of CNN."
DNA evidence reportedly contributed to Sayoc's arrest for sending the pipe bombs.
The Washington Post reports that authorities were able to trace the suspect from a fingerprint found on an envelope that contained a bomb mailed to Rep. Maxine Waters. Authorities also found DNA matching a sample taken during one of Sayoc's other previous arrests on two of the other bombs.
Sayoc was arrested outside of an AutoZone store in Plantation, Florida.
According to CBS News, Sayoc's arrest took place near an AutoZone store. A witness told CBS News that, while across the street from the AutoZone, he heard a "flash bang" device, saw smoke, then saw a man on the ground surrounded by police officers. The Herald reports the arrest was made at the AutoZone instead of Sayoc's home to avoid a dangerous confrontation.
The arrest came after at least 12 pipe bombs were discovered over the past week.
The arrest follows the discovery of several bombs this week that were sent to high-profile politicians, public figures, and CNN. The first pipe bomb was discovered on Monday in the suburban New York mailbox of billionaire philanthropist and liberal donor George Soros; by early Wednesday, similar bombs were found in mail sent to Hillary Clinton and Barack Obama. Shortly after, a bomb addressed to former CIA director John Brennan was discovered in the mailroom of CNN in New York City.
Additional bombs were also discovered in mail sent to former vice-president Joe Biden, Congresswoman Maxine Waters, former attorney general Eric Holder (but the mail was rerouted to its return address, the office of congresswoman Debbie Wasserman Schultz), actor Robert De Niro, Senator Cory Booker, former director of national intelligence James R. Clapper (also addressed to CNN). Another suspicious package addressed to Senator Kamala Harris is also being investigated, per CNN.
The Washington Post reports that a complaint filed by federal prosecutors in the Southern District of New York shows that inside at least three packages sent to the targets, including Obama, Brennan, and Waters, were pictures of each individual with red "X" marks over their faces.
Attorney General Jeff Sessions said Sayoc would be charged with five crimes.
During a Friday afternoon press conference, Sessions announced that Sayoc would be charged with five federal crimes, and that he faces up to 58 years in prison. He was charged with illegally mailing explosives, transporting explosives across state lines, assaulting federal officials, threatening former presidents and others, and threatening interstate communications.
The Post notes that FBI director Christopher Wray referred to the 13 bombs recovered as "IEDs," which is an acronym for improvised explosive devices. Wray also said during he press conference that the agency is trying to determine whether the devices "were functional," but he stressed that they did contain materials that could potentially explode. "These are not hoax devices."
When asked why Sayoc was targeting Democrats, Sessions said during the press conference that Sayoc appeared to be "partisan."
This post has been updated, and will continually be updated as more information becomes available.