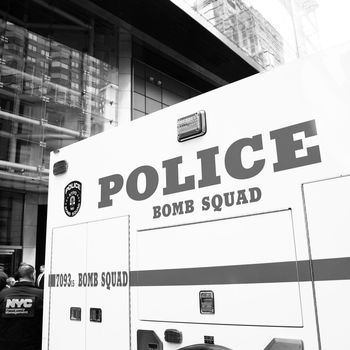 The NYPD bomb squad outside CNN.
Photo: TIMOTHY A. CLARY/AFP/Getty Images
On Wednesday morning, news broke that former secretary of State Hillary Clinton and former president Barack Obama had been sent pipe bombs in the mail, just two days after it was reported that a similar explosive device had been discovered in the mailbox of billionaire philanthropist and liberal donor George Soros. As the day went on, another pipe bomb was found at CNN in New York City, as well as in mail sent to other prominent political figures (including former vice-president Joe Biden and Congresswoman Maxine Waters) — and even actor Robert De Niro.
On Friday, authorities arrested 56-year-old Cesar Sayoc Jr., of Florida, in connection with the bombs. The news of the arrest came after news broke that two more bombs were discovered, addressed respectively to Senator Cory Booker and former director of national intelligence James R. Clapper. The latter was reportedly addressed to Clapper at CNN's New York City headquarters. Another suspicious package addressed to Senator Kamala Harris was also reportedly discovered on Friday.
Here's everything we know about the bombs so far. We will be updating this post as more information becomes available.
The first pipe bomb was discovered in George Soros's mailbox.
On Monday, an explosive device was found in the mailbox of George Soros, a billionaire philanthropist and liberal donor who President Donald Trump recently accused of paying Kavanaugh protesters. The device — revealed to be a pipe bomb — was believed to have been placed in suburban Katonah, New York, mailbox rather than having been transported through the mail. The bomb did not explode and an employee placed it in the woods before calling the police.
Late Tuesday, a similar bomb was discovered in mail sent to Hillary Clinton. A similar device sent to Obama was discovered on Wednesday morning.
On Wednesday morning, the New York Times reported that two bombs were discovered in mail sent, respectively, to Hillary Clinton and Barack Obama. The device sent to Clinton was discovered on Tuesday by a Secret Service employee who screens mail for her in Westchester, New York. The bomb sent to Obama's Washington, D.C., office was discovered on Wednesday. Both packages had return addresses for congresswoman and former Democratic National Committee chairperson Debbie Wasserman Schultz.
Soon after, another pipe bomb was discovered in CNN's mailroom at the Time Warner Center in New York City.
Shortly after news of the bombs sent to Clinton and Obama broke, CNN's New York City newsroom had to evacuate after a similar device was discovered in its mailroom. Anchors were seen evacuating on air:
The package was delivered via courier to CNN's New York City mailroom, and had six first-class postage stamps on it. It was addressed to former CIA director John Brennan, and also had a return address of Debbie Wasserman Schultz. The New York Police Department bomb squad reported to the scene, removed the device, and employees were eventually able to return.
Additional bombs have been discovered since then, including devices sent to Joe Biden, Maxine Waters, and more.
As of Friday, similar devices have been discovered in packages sent to prominent figures. At the moment, the confirmed list of intended (and unintended) recipients of these devices is as follows:
• Billionaire George Soros.
• Former secretary of State Hillary Clinton.
• Former president Barack Obama.
• Former CIA director John Brennan via CNN.
• Former attorney general Eric Holder (but the device was misaddressed, so it was sent to the Florida office of Representative Debbie Wasserman Schultz, as she was listed as the return address).
• Representative Maxine Waters (she was sent at least two bombs).
• Former vice-president Joe Biden (but the two packages were also misaddressed and in the process of being rerouted back to Schultz when discovered, the Times reports).
• Actor Robert De Niro (found in the mail room of his production company, Tribeca Productions).
• At least one more package was discovered at the same facility as the ones sent to Biden and Holder, according to the Times. It's unknown who that package was addressed to at this time.
• Senator Cory Booker (found in Florida).
• Former director of national intelligence James R. Clapper (sent via CNN).
• Senator Kamala Harris.
There were also a few false alarms.
Throughout Wednesday, stories of other potential bombs broke out. The San Diego Union-Tribune office was briefly evacuated over suspicious boxes seen outside (that ended up being an assortment of random items, the newspaper reports). Additionally, Governor Andrew Cuomo said in a press conference that his Manhattan office had received a suspicious package — which was later revealed to have contain a flash drive with information about the far-right group the Proud Boys.
The devices that have been discovered have certain commonalities.
A law enforcement official told the New York Times on Thursday morning that the envelopes and printed address labels on the package to De Niro was similar to those on the packages sent to Clinton, Obama, and others. "This appears to be from the same sender," the official told the Times. Also, as with the other discovered packages, the newest-discovered devices appear to be pipe bombs, like the one sent to CNN:
At least several reportedly contain six first-class postage stamps on manila envelopes, and a return address of Wasserman Schultz. All the labels are printed on computers.
President Donald Trump condemned the sending of these bombs, but also blamed the media for inciting "anger."
In a speech on Wednesday, Trump called the bombs "an attack on democracy itself," but then he proceeded to tweet a tirade about the media by Thursday morning.
Law-enforcement officials believe several of the packages were sent from southern Florida.
The Times reports on Thursday afternoon that investigators have turned some of their attention to southern Florida, as it appears at least several of the pipe bombs were mailed from there. Data from the U.S. Postal Service reportedly indicates that many of the packages came from there, as the USPS takes images of the mail that it processes. The Times notes that officials have been searching the images to determine where the packages were sent from. They're also hoping to identify any other possible devices sent in the mail, and it's unclear at this time whether the bombs were sent by an individual or more than one person.
On Friday, the Times reported that the package addressed to Senator Cory Booker had been found in Florida. It's unclear at this time how the package was discovered.
On Friday, Florida resident Cesar Sayoc, 56, was arrested in connection with the mail bombs.
Cesar Sayoc, 56, of Aventura, Florida, was arrested on Friday in connection with the pipe bombs sent to politicians, high-profile figures, and CNN. NBC News reports DNA evidence played a role in Sayoc's arrest, and that he is a registered Republican with a criminal record — including a previous arrest over a bomb threat, according to the Times. NBC News also notes that a van associated with Sayoc — with stickers of President Donald Trump on the window, as well as a presidential seal, had been seized.
This post has been updated, and will continue to be updated as more information becomes available.