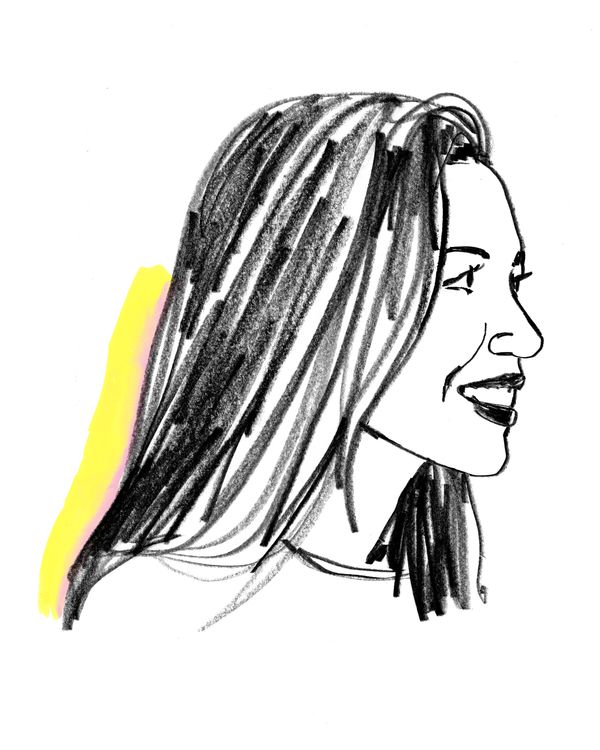 Michele Outland.
Illustration: Lauren Tamaki
Like many people in creative fields, Michele Outland's day is never uniform and leaves little room for a formulaic schedule. Known for pushing the boundaries of food photography, she is the award-winning creative director of Bon Appétit and the Food Innovation Group at Condé Nast, and the James Beard Award–winning co-founder of Gather Journal. Her latest achievement is redesigning Bon Appétit's November issue, on newsstands today, which was staged in a "floating farmhouse" upstate. She lives in the West Village with her dog, Isabel. Here's how she gets it all done.
On a typical morning:
I'm usually up around 7:30 or 8. One rule I definitely do is when I open my eyes in bed, I do not check my emails, because I'm trying to be relaxed and enter the day peacefully. After my cup of coffee I can maybe take a peek at emails, but in general I try and wait and do it once I'm at the office so I'm composed and thinking straight. I have to have a cup of coffee at home in the morning before I can function, really. I do pour-over coffee and drink it while I'm getting ready, and then I walk my dog Isabel. Sometimes I peek at my emails on the subway and start answering but I try not to, to just have a clear mind when I come into work and attack the day from there. I'm usually in the office around 10 a.m. and drink a cup of green tea at my desk, starting to answer emails. I have a yogurt that I bring with me.
What she eats for lunch:
Everyone says, "You work at Bon Appétit, you must have gourmet lunches every day!" And I'm just like, I'm eating Pret a Manger in five minutes, if I get that. I'm in meetings all day and I'm usually walking in between meetings eating my lunch. We have a Pret right downstairs, you don't even have to leave the building. Oftentimes my assistant grabs it for me. I eat almost the same thing all the time — I get the Bang Bang Chicken Wrap, very fast and quick to eat, and the Superfruit Salad. Sometimes I'm like, this meeting's not appropriate for me to be eating in, so lunch happens at four in the afternoon. I squeeze it in wherever I get a second.
On working until 9 p.m.:
A huge part of my role is being the creative director for the photo shoots, so I'm often out shooting or here in the office. Forever and always, being on set and working with a team is my happy place. It's what I enjoy the most. It's fun to present the spark of an idea to a team of photographers, prop stylists, food stylists, and then we all get on set together and you see an image come to life. At six o'clock that's when I can start working, really — doing design stuff, prepping shoots, getting my creative direction together to give to the teams, meeting with the department and reviewing their layouts. A lot of it is planning. I'm usually here until about 9 p.m., so it's a long day. I either take the subway or I get a car home, and then I walk Isabel.
On how she unwinds:
Sometimes, and when I say sometimes it's maybe pretty regularly, I make a negroni. A negroni is my fave. On certain nights if I feel like I really need to unwind I put a little CBD oil in my cocktail, just a little drop. The high vibrational oil from Cat Beauty is really nice, so I have a bottle of that at home. It just helps you sleep a little bit better. So that's like, my chemical unwind. I'm also typically watching TV whenever I'm at home. I love Insecure. I'm a total Game of Thrones nerd. Last Week With John Oliver is really fantastic. Great British Baking Show, totally obsessed.
I have dinner at ten and try to unwind for maybe an hour. Oftentimes I'm ordering in, which is also embarrassing: I like Frankie's in the West Village, and there's a Sichuan place with a really nice spicy mapo tofu called New Legends on Seventh Avenue. Those are the two regulars. And then I usually collapse and go to bed, usually between 11:30 or midnight, and start all over again.
On learning to cook from her mom:
I grew up in Golden, Colorado, and we sat down to family dinners every night. My mother is Korean and she's a really fantastic cook. It's a real treasure to have some of her recipes published [in Gather], to have taken the time to do that. My mom gets so excited when I ask her. A lot of times you just take it for granted, you just eat your mom's food and it's so good, but you know, you think someday you'll get around to learning it. There's this Korean noodle dish called chap chae that my mom gave us. This past summer we did a cold noodle dish called ngyunmyen, and you eat it on super-super hot days.
My dad's family is from Texas and Oklahoma and his mother, my American grandmother, was also this incredible baker. I have a little recipe box of all of her old handwritten recipes. Family was a huge influence on my food interest.
On redesigning Bon Appétit:
We're calling it a refresh, a very subtle face-lift. It's kind of like when you see a friend and say, Did you get a haircut? Did you lose five pounds? You're looking great. That's what our hope was with the new logo on the November cover. It just feels fresher and a little more chic. We have three sections [in the magazine] now: "Home," "Away," and "Basically," and I wanted the design to be really clean and simple.
"Home" encompasses everything that happens in the home, but it's very cooking-forward. "Away" encompasses travel, restaurants, anything outside of the home. And the back of the book has become "Basically." Just like our Basically brand online, it's really instructional for the cook who's not super-well versed but excited to learn about cooking techniques.
Where they staged the Thanksgiving issue cover:
We went upstate for a week at a house called the Floating Farmhouse that had a beautiful kitchen in it, and different food editors from the test kitchen came up and cooked. My visual creative direction for this Thanksgiving shoot was that it was a cabin in Topanga Canyon, very warm, very approachable, not austere. Cool Topanga vibes, even though we shot it upstate. The light beachy woods, it's very now. I think it's what New Yorkers dream of maybe, or maybe that's just me. This was partly a Google-sponsored issue. So we shot the cover with a Google Pixel phone.
On her favorite Thanksgiving dish:
I'm usually the one who brings pies to Friendsgiving in New York. I enjoy doing this chocolate pecan pie I do every year, and then pumpkin pie. It's required, I have to have pumpkin pie with Cool Whip. I'm very specific about the Cool Whip. And it's so funny because I've asked food editors, "Do you have a favorite pumpkin pie recipe?" And they're like, "Quite honestly, the one off the can is the best recipe." So I always use the recipe off the side of the can, and it always is good.
This interview has been edited and condensed.