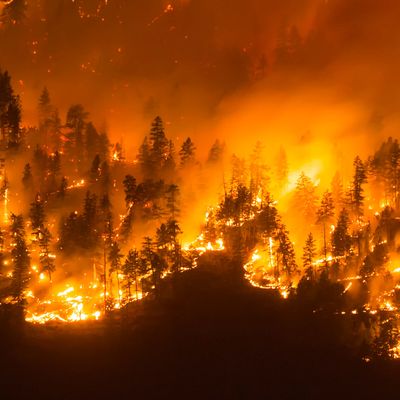 Photo: Nick Fitzhardinge/Getty Images
No matter what you think about the gender binary, there are millions of people across this country who take revealing their future child's sex very, very seriously. They are festooning their houses with pink or blue decorations. They are clutching their faces, desperately asking the question "guns or glitter?" And they are accidentally starting 47,000-acre wildfires at their unborn child's gender-reveal party.
In April 2017, the Washington Post reports, a Border Patrol agent named Dennis Dickey and his wife threw such a celebration in Arizona. He opted for an increasingly popular method for the big reveal: shooting a target that's filled with either pink or blue powder, plus an explosive substance called Tannerite.
Here's what ended up happening:
When Dickey, now 37, fired his rifle at the target, the ensuing explosion sparked a fire that quickly spread through the dry brush, spurred on by unusually high winds and lower-than-average rainfall. By the time it was fully contained over a week later, the fire had done $8 million worth of damage.
Total Pinterest fail.
Dickey told the authorities about the fire immediately after it started, and officially plead guilty to a charge of causing a fire without a permit last Friday. He was sentenced to five years agreement and has to pay restitution of $100,000 up front plus $500 a month for the next 20 years.
Dickey will also star in a public service announcement with the U.S. Forest Service, which will hopefully involve Smokey Bear looking straight at the camera and saying "gender is a social construct."