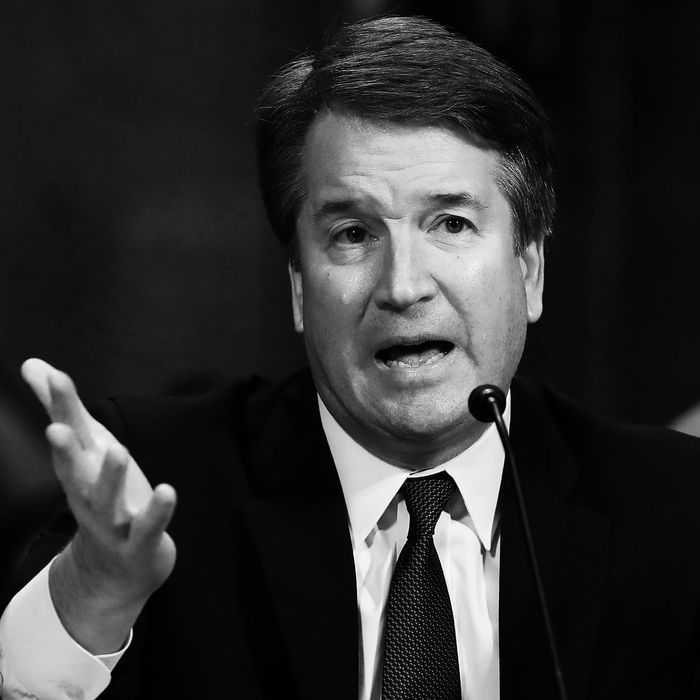 Supreme Court nominee Brett Kavanaugh.
Photo: Win McNamee/Getty Images
A New York Times investigation uncovered a handwritten note that Supreme Court nominee Brett Kavanaugh wrote to his high school friends in 1983. The note details extremely specific instructions so that Kavanaugh's friends could access the condo they rented for Beach Week.
Among the instructions were how to drop off the deposit at the realtor's office, for everyone to bring their own sets of sheets and towels, and to be selective with guests who will stay the night at the condo so they wouldn't get kicked out.
"I think we are unanimous that any girls we can beg to stay there are welcomed with open … ," Kavanaugh's letter said. "The danger of eviction is great and that would suck because of the money and because this week has big potential. (Interpret as wish.)"
The letter also included a telling P.S., another warning to Kavanaugh's friends about the possibility of getting kicked out of the condo for being too loud. Kavanaugh wrote that it would probably be a good idea to "warn the neighbors that we're loud, obnoxious drunks with prolific pukers among us."
In a statement to the Times through his lawyers, Kavanaugh confirmed that he was the author of the letter. "This is a note I wrote to organize 'Beach Week' in the summer of 1983."
Kavanaugh's drinking habits during his high school and college years were questioned by multiple members of the Senate Judiciary Committee during the hearings with Christine Blasey Ford. Kavanaugh avoided directly answering many of the questions, at one point even responding to Senator Amy Klobuchar's question of whether Kavanaugh had ever blacked out from drinking before by turning the question on her.
Many of Kavanaugh's former classmates have come out to refute his characterizations of his behavior in college and high school. Some have gone as far as to say that he lied about his drinking habits during the Senate Judiciary Committee hearing.